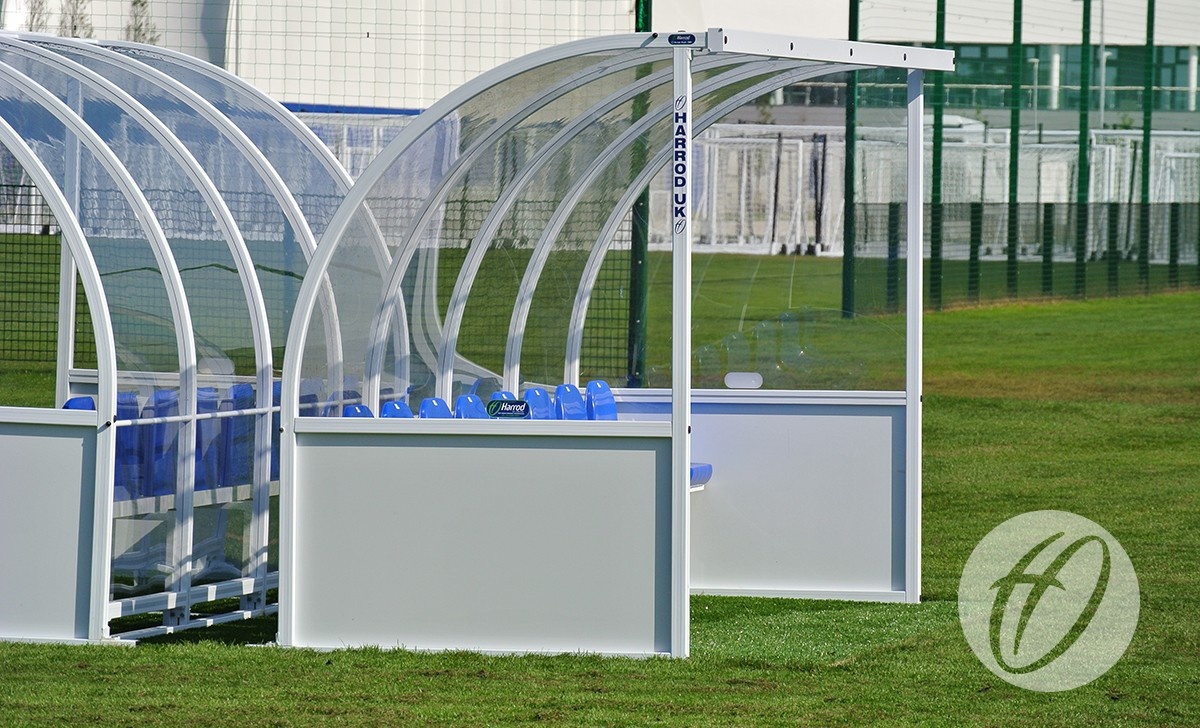 Premier Team Shelter - 4m Blue Seats Socketed
SHE-016
4m Socketed Premier Curved Team Shelter with 8 Blue Seats
Unit: Each
Weight: 192.00kg
Specification:

Made from 50mm square aluminium with bespoke internal extrusions.
4mm thick clear copolyester side and back sheets.
Rubber extrusion strips ensure a secure waterproof seal.
Polyester powder coated white.
2.05 metres high allowing full standing access.
External depth of 1.57 metres.
Injection moulded polypropylene seats.
Shelters must be anchored at all times.
Socketed Shelters have extended legs and 4 sockets.
Please see the 'SIZE OPTIONS' tab for all available size options and related products, as well as a list of extras and spares.

What's Included
2 Curved Side Frames (1 Left, 1 Right)
3 Curved Back Supports
1 Backbar
1 Crossbar
8 Seats
3 Seat Support
2 Seat End Supports
4 Back Supports
4 Pet Back Sheets
4 Retaining Tubes
4 Sockets
All Bolts & Fixings
FAQs
Q: Which team shelters can the Name Boards (SHE-084) be used with?
A: The Name Boards can be used with all curved team shelters - Premier Curved Team Shelters, Superior London 2012 Shelters and Elite Team Shelters
Q: What sizes are available for the Premier Curved Team Shelters?
A: The Premier Curved Team Shelters are available in 8, 10 and 12 seat versions.
We'd love to hear your feedback - please click here to leave a review.
---
Premier Curved Team Shelter
The items below are required for a complete set.
Options, Extras & Spares
The items below are required for a complete set.
Related Products