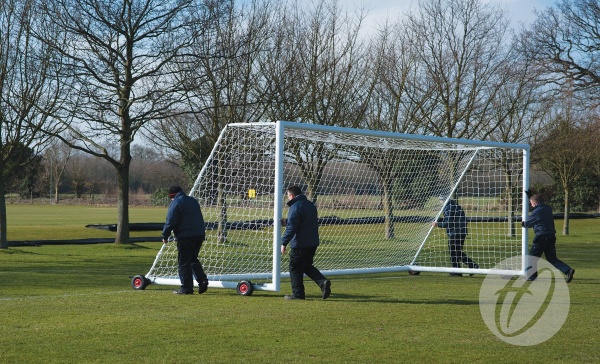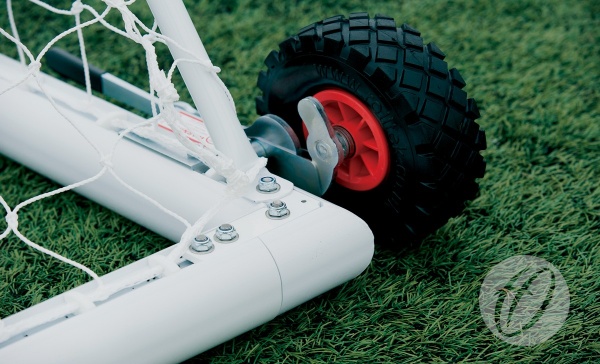 3G Weighted Portagoal - Junior
FBL-436
Harrod Sport 3G Weighted Portagoal is designed to be portable on both grass and synthetic surfaces.
Unit: Set
Weight: 391.00kg
Features:
Hi-Raise wheels lift the goal up to 100mm above the surface allowing for manoeuvrability on both grass and synthetic surfaces.
Fully welded corner joints provide superior strength and added safety.
The latest addition to our range of self weighted portagoals.
Specification:
Size 6.4m x 2.13m.
Uprights, Crossbars, Sidebars & Backbars made from 102mm x 112mm reinforced aluminium.
Full length net supports made from 31.8mm diameter galvanised steel.
Zinc plated internal corner joints.
Puncture proof cellular rubber tyres.
Polyester powder coated white.
Aluminium profile Backbar with integral weight insert and ballast (below).
Please see the 'SIZE OPTIONS' tab for all size options and related products available, as well as a list of extras and spares.
Please Note: All recommended nets and extras must be purchased separately (unless stated otherwise) and can be found listed below each goal within the size options tab.
What's Included
4 Uprights
2 Crossbars
4 Sidebars
2 Backbars
4 Net Supports
8 Hi-Raise Wheels and Brackets
2 Ballast Boxes
4 Weight Rods
200 Net Hooks
All Bolts & Fixings

1 Set = 2 Goals (including wheels) & 200 Net Hooks
FAQs
Q: Are your goals metal?
A: Yes, We offer goals in a variety of materials including Aluminium, Steel and PVC.
Q: Why should I buy Aluminium goals?
A: This material is lighter in weight and easily portable, but still very strong. Rust free.
Additional Info
We would strongly advise that where recommended nets are listed they are purchased with the goal to ensure best fit.
The recommended net for this model has been specifically tailored to fit this goal.
We'd love to hear your feedback - please click here to leave a review.
---
3G Weighted Portagoal - Junior (Set)
The items below are required for a complete set.
Options, Extras & Spares
The items below are required for a complete set.
Related Products