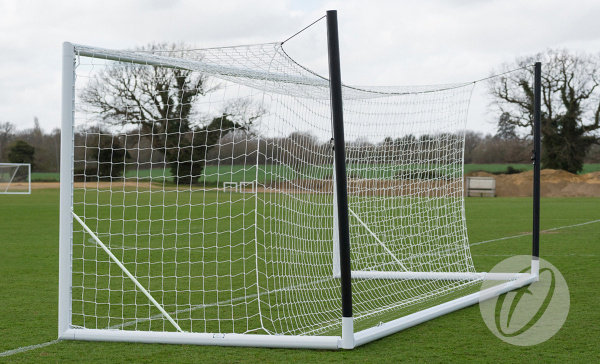 4G Euro Portagoal
Harrod Sport 4G Euro Portagoals were designed as the ultimate training ground goal, allowing clubs to mirror the 4G Stadium Goal but with a goal that can be easily transported utilising the optional Hi-Raise Wheels.
Select size below.
Unit: Set
Weight: 107.00kg
Features:
Integral net support posts allow for freehanging net to match Stadium Goal set up.
When used with the optional Hi-Raise wheels the portagoal is extremely manoeuvrable on both grass and synthetic surfaces, Hi-Raise wheels lift the goal up to 100mm above the surface. Fully welded corner joints provide superior strength and added safety.
Specification:
Uprights, Crossbars, Sidebars & Backbars made from 102mm x 112mm reinforced aluminium.
Net Supports made from 80mm diameter reinforced aluminium.
Zinc plated internal corner joints.
Polyester powder coated white with black net supports.
What's Included
4 Uprights
2 Crossbars
4 Sidebars
2 Backbars
4 Net Supports
4 Net Support Brackets
4 Goal Braces
2 Weighted Net Bars
4 'U' Peg Grass Anchors
200 Net Hooks
All Bolts & Fixings

1 Set = 2 Goals, 4 Anchors & 200 Net Hooks
FAQs
Q: Are your goals metal?
A: Yes, We offer goals in a variety of materials including Aluminium, Steel and PVC.
Q: Why should I buy Aluminium goals?
A: This material is lighter in weight and easily portable, but still very strong. Rust free.
Additional Info
We would strongly advise that where recommended nets are listed they are purchased with the goal to ensure best fit.
The recommended net for this model has been specifically tailored to fit this goal.
We'd love to hear your feedback - please click here to leave a review.
---
Football Foundation