---
The winners of the 2022 Ron Harrod Foundation have been selected!
The winners of the 2022 Ron Harrod Foundation have been selected!
For four years, we have been sponsoring athletes through the Ron Harrod Foundation, an initiative created in the name of our founder to help young, local athletes to continue their dreams without the financial worry which comes with competing.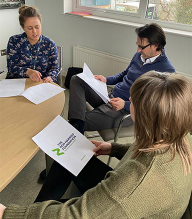 This year, we invited Rebecca Burton to be our Head Judge for the Ron Harrod Foundation 2022. Rebecca is a UEFA licensed coach, Manager of Wroxham Women, Head Coach for UEA Women and Head of Marketing and Communications for Norfolk County FA and was tasked with choosing our next round of sportsmen and women to support.
"It was an honour to be asked to be part of this year's Ron Harrod Foundation judging panel and I'm extremely grateful for the opportunity to represent Norfolk FA." Says Rebecca. "The stories of the shortlisted athletes are nothing but remarkable, and it's inspiring to see the passion and determination that individuals such as these demonstrate consistently in their journeys to achieve their dreams.
Rebecca adds: "The Ron Harrod Foundation is an amazing initiative that provides much needed financial aid to athletes from all walks of life across many sports, and I'm so glad that I was able to play a small part in supporting the ambitions of some extremely talented sportsmen and women."
We're excited to announce the winners of this year's funding are; Danny, Jaiden, Calvin and Rian. All four are incredible sportsmen with bright futures ahead of them.
---
Meet the 2022 Winners – Danny
Our first athlete to be awarded funding in 2022 is an incredibly talented gymnast, Danny Bullard. Danny has been competing in gymnastics since he was 4 years old and has aspirations to become an Olympian.
Danny most recently qualified for the Team GB Development Squad after competing at Lilleshall National Sports Centre and will now visit the centre 6 times throughout the year to prepare him for representing Great Britain.
He trains for 20 hours a week at his local gymnastics club while still maintaining his education. However, since Danny's recent success, he now participates in enhanced training which takes him out of school one day a week.
Danny was nominated by his aunt, Tracey who has been with Danny at every step in his journey.
---
Meet the 2022 Winners – Jaiden

Jaiden is a consistent athlete, achieving numerous number 1 rankings across his career including being ranked No.1 in the U17s for 60m Hurdles, most recently breaking the current British Record with an impressive 7.76s!
With a desire to compete in the European and World Standard Athletics later this year in Jerusalem, Jaiden believes his hard work will continue paving his way to the Los Angeles Olympics in 2028.
Regular travel to Lee Valley Athletic Centre and various national events requiring overnight accommodation, the funding provided to Jaiden will remove some of the financial pressure on his parents to ensure he continues competing in the sport he loves.
---
Meet the 2022 Winners – Calvin
2021 was an extremely difficult year for all, especially those in the sporting world. Calvin's local track had closed and his coach unfortunately left towards the end of the season. However, Calvin worked extremely hard to still win all of the major championships in which he competed.
With a number of gold medals to his name, Calvin is dedicated to regular training (6 times a week!) while also juggling his education.
Calvin will potentially be representing the GB U20s at the World Championships in Colombia under the provision he achieves the qualification standard needed to compete. Funds from the Ron Harrod Foundation will be used to pay for Calvin's strength and conditioning sessions, travel and hotel costs.
---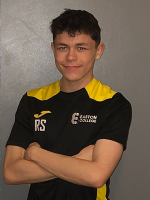 Meet the 2022 Winners – Rian
Our final Ron Harrod Foundation athlete is Rian, a Transplant Games Gold and Silver medallist, competing in a number of events but with an affinity for sprinting. While some may say his childhood has been anything but ordinary, Rian has grabbed life by the horns and taken on many sporting challenges including the annual Transplant Games.
2022 is no different, with a long list of events Rian will be taking part in including various track meets in the Southern Athletics League, representing the London Evelina Children's Hospital at the British Transplant Games in Leeds and representing Great Britain and Northern Ireland in the European Transplant and Dialysis Games in Oxford. These events will give Rian to opportunity to achieve the standard necessary to represent Great Britain and NI at the World Transplant Games in Perth Australia 2023.
Upon meeting Rian and his dad, he explained how excited Rian is to finally be able to purchase some new running spikes to chase his PB records and hopefully set some new ones! The funding will also help with the cost of travelling to events and hospital appointments.
---
Supporting future athletes
We're all too aware that one year's sponsorship isn't always going to be lifechanging which is why we do sometimes continue funding existing athletes beyond their initial year with us.
Last year, Josh Vallance was one of our chosen recipients having competed in Motorsport since he was 9. We're pleased to announce that we will still be offering Josh funding as he continues his racing campaign throughout 2022.
We will also be continuing our sponsorship of Racketlon champion, Ross Wilson, an athlete we have been supporting since the inception of the Foundation and Ruby Hunt, a dedicated Karate athlete currently ranked world no. 4!
Nominations for 2023 will reopen in October of this year. The application form will be available on our website with further details to be released closer to the date.