---
How much does it cost to build a tennis court?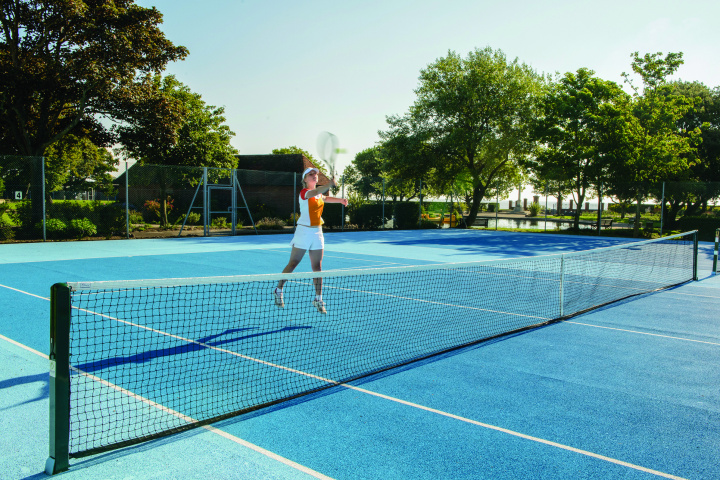 Anyone for tennis? The world's most popular racket sport has captured Europe's heart for centuries, all the while maintaining a strong association with the UK thanks a lawn-tennis habit that kicked off in the 1800s. Today, Wimbledon remains an integral part of the British summer and a centrepiece of the sporting calendar.
Tennis owes its widespread popularity to its inclusivity and accessibility. Whether you play for fun or fitness, casually or competitively, tennis's rules and equipment stay the same, making it a great sport for all ages and skill levels.
Despite tennis's popular appeal, not every fan has ready access to a high-quality court. If you have the space and the resources, building your own court could be an appealing solution. But how much does it cost to build a tennis court?
Less than you might think. While the average cost for an outdoor swimming pool is £85,000, installing a tennis court would cost around £45,000 – although this varies depending on the type of playing surface, as well as equipment such as nets and posts.
In this guide, we'll outline the key things you need to know to help you decide whether a home tennis court is for you.

---


Surface types
One of the first elements to consider when building a tennis court is which type of surface to install. From grass to clay or even a synthetic material such as Macadam, the surface type will affect construction costs – as well as how the court plays.

Natural surfaces, such as grass or clay, are not only more expensive to fit but require significantly more maintenance than synthetic options, making them unsuitable for most schools and clubs. For this reason, we are focusing on the most popular artificial surfaces available.
Sporturf
This surface is durable and strong, making it a popular option for areas requiring a multi-sport surface for tennis, hockey, five-a-side football, netball and cricket. On average, a Sporturf court costs £58,000 or more.
Pladek
Pladek is made from acrylic painted, open textured Macadam and is a popular choice for home courts as well as clubs, schools and public courts. Pladekis one of the cheaper surfaces, costing £53,000 on average.
Tenniturf
Tenniturf is a kind of sand-filled artificial grass that is suitable for multiple sports. Known for its durability, the surface lasts up to 30 years if you look after it properly. Expect a Tenniturf court to cost around £58,000 or more.
Savanna

Savanna is another kind of sand-filled synthetic surface. Like Tenniturf, it's highly durable – but it differs in that it is also cushioned, boosting comfort for the players. Savanna is one of the most advanced synthetic surfaces and is priced accordingly – an average of £64,000.
Omniclay

A more specialist surface, Omniclay is ITF-approved for tournament play and provides players with the same conditions as a clay court without the regular maintenance. But this comes at a price: fitting an Omniclay court could cost you around £70,000.
---


Choosing a location
Preparing the groundwork

Laying the foundations for a new tennis court will require significant groundwork to make sure the area is sufficiently flat and stable.
This may require levelling and the excavation of materials, which could become expensive if the chosen site is not already relatively clear and flat.
Access
For this level of groundwork, you'll need a range of heavy machinery. Make sure that the chosen location has suitable access for construction vehicles and tools.
How long will construction take?
The construction of a standard tennis court in an area that is already clean and flat is likely to take 6-8 weeks to complete.
---


Equipment
Once the court itself is complete, it is time to consider the types of equipment required to get match ready.
Posts

Tennis posts are available in a range of options depending on how regularly the court will be used:
Socketed posts are commonly used at schools and clubs and are only taken down during the off-season. These are typically square posts fitted into the surface using sockets. S8 Square Tennis Posts can be purchased with or without sockets, depending on whether you are refurbishing an existing court or building an entirely new one.
Another option is locking sockets, which can be closed and secured with a key when not in use, ensuring there is no trip hazard and the surface can be safely used for other activities. Permanent sockets should be protected with socket raisers, which protect against damage, corrosion and unwanted materials collecting during the winter months.
Freestanding posts will not require sockets to be fitted into the surface, but this does not make them portable. In order to move freestanding posts, a specially designed trolley is required. Portable posts are designed to be moved more regularly. Wheelaway posts feature integrated wheels allowing them to be moved without any additional equipment
Nets

Nets will vary in cost depending on the standard of play required – approximately £140 for club nets, and up to £280 for tournament nets.

When setting the net height, it is important to avoid adding unnecessary tension. This could damage the net, the posts, and even the playing surface. The addition of a Torque Limiter handle to replace the standard winder will prevent overtightening and extend the life of the equipment by 'slipping' once the pre-determined tension is reached.
---


Other considerations
Court Size
The international minimum size for a full-size tennis court is 114 x 56ft. This accounts for the 78 x 36ft required for a doubles court and space to the side and back of the playing area. Specific measurements and diagrams for singles, doubles and line markings can be found in the Tennis Court Dimensions & Size guide.

Fences
Outdoor courts will require a fence to keep the balls from getting lost and to protect the court from wildlife. These cost around £9,500
Drainage

Hard surface tennis courts don't drain easily, so you'll need to install a drainage system and connection point to move water from the playing surface. In total, both elements could cost between £8,000 and £15,000.
Line marking
Marking the lines for play is a professional task, both due to the machinery required and the need for precision. This could cost between £500 and £1,500.
Legal considerations
Legal guidance may be required to ensure that local environmental or building regulations would not be breached by your proposed project.
---


Do You Need Planning Permission for Tennis Courts?

No. Tennis courts usually fall under Permitted Development and don't require Planning Permission as they are considered outbuildings such as sheds and summer houses. Exceptions to this are for land in the following areas:
Areas of outstanding natural beauty
Conservation areas
National parks
World heritage sites
However, some factors of your plans may require planning permission:
Floodlights are likely to be considered an elevated outdoor light
Fences over 2m tall
For tennis gear equipped for every level from youth to professional, check out our range of tennis nets, posts, Finesse training equipment and accessories.
---