---
Harrod Sport helps Suffolk teen compete for Great Britain
16-year-old multi-sportsman explains how funding will help himself and others.
"Ever since I fell in love with racket sports, I knew I wanted to give back to the community what my coach gave to me." So says 16-year-old Ross Wilson, a young man who manages to balance single-minded competitiveness and big-hearted altruism. Not only does Ross compete for Great Britain (GB), but he is also a qualified assistant coach.
Ross Wilson is a lucky recipient of funding from Harrod Sport and part of the inspiration for the Ron Harrod Foundation – an initiative we have set up to help fund young sportspeople from Norfolk and Suffolk as they try to keep up with the increasing costs of competing at higher and higher levels.
The confident teen plays tennis, squash, badminton and table tennis, competing in an event that combines all four, known as Racketlon, or the 'Ironman Of Racket Sports'. The sport involves competitors playing the same opponent in all four disciplines and Ross is currently British U16 champion, having been national U13 champion.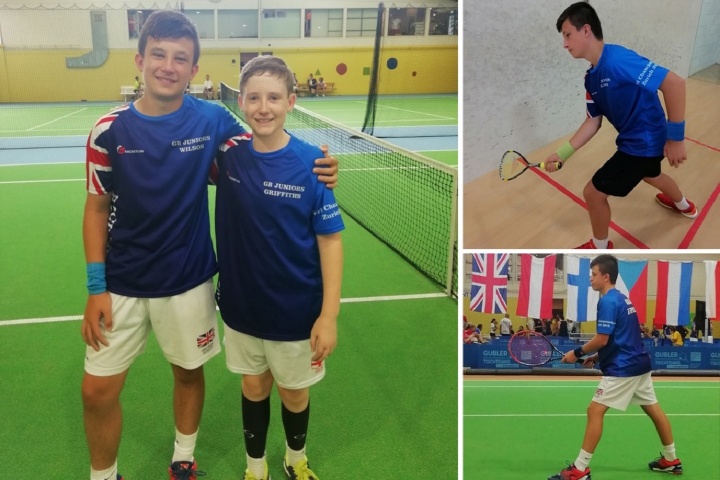 History in the making
Ross began playing for his club, before playing for his county (Suffolk), and latterly, being selected to play for Great Britain.
"Last year [2017], I went to Austria to play racketlon for GB in the European Championships for the first time - it was my first international trip – and I won a silver medal in the team event."
We speak to Ross upon his return from Zurich where he won a gold medal in the 16U Racketlon team, returning home a world champion. Having been selected for the Great Britain 16U team in the Racketlon World Championships he came fourth in the individual tournament event and won his gold in the team event, partnering Luke Griffiths.
"It was a proud moment to stand on the podium holding the Union Jack with the National Anthem playing in the background and all the supporters singing at the top of their voices," says Ross. "It's a moment I won't forget.
The cost of competing
But prodigious sporting achievements have costs attached. Ross's dad, Andy explains:
"There's coaching, entry fees, fuel, hotels, equipment and clothing. "We're looking at around £3,000 a year. This year was around £5,000 due to the World Championships and level 1 coaching qualifications.
And it gets more expensive as Ross competes at higher and higher levels.
"Sadly, there is no funding available for the sport, so we're completely self-funded. As such, Ross has had to miss some of the more popular events from Paris and Belgium to Germany and Latvia."
The impact isn't just financial. Andy explains that the whole family makes sacrifices from missing family and friend events to not being there to pick up his GCSE results.
Ross and Andy both emphasise how much impact financial support will make: "The whole family are so grateful to Harrod Sport for the funding," says Andy. "It's invaluable in helping him compete internationally, as well as pursue his coaching qualifications."
Into the future
2018 has been a big year for Ross, but he already has his eyes on the future - becoming a higher grade of coach "so I can inspire others", and, into 2019, representing his country again.
Harrod Sport wish Ross the best in his sporting endeavours. We are proud to support young local talent and have created the Ron Harrod Foundation to continue funding under-25s as they achieve their dreams.
In 2018, we will be looking for the recipient(s) of £5,000 of funding in 2019. We are inviting nominations from YOU, which will be assessed by a panel of judges before one or more recipients are chosen. The panel includes Harrod Sport board members, local athletes, and representation from Suffolk Sports.
Click here to nominate a young local athlete for the Ron Harrod Foundation.