---
How versatile equipment can support school sports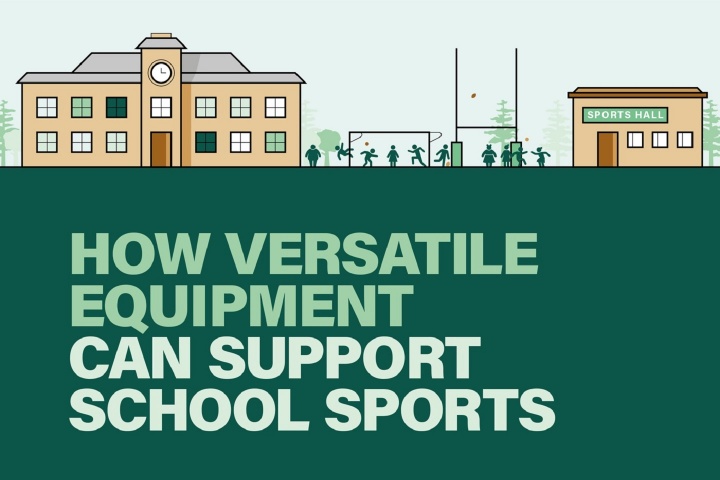 Government estimates suggest that almost one in three children aged between 2 and 15 in the UK are either overweight or obese, which can lead to increased risk of mental or physical illness in adulthood. But by making sport an important part of their lives from an early age, children can gain much more than just improved health:
Benefits of sport
Confidence
Teamwork
Leadership
Creativity
Empathy
Funding
There are a wide variety of financed projects aimed at getting more young people involved in sport, and many of these point to schools as an essential component in achieving success:
Alongside these is the Primary PE and Sport Premium, a government fund designed to benefit primary school pupils by funding additional and sustainable sports provisions.

A November 2015 report by the Department for Education, looking into the use and impact of the Sports Premium funding initiative, revealed that the most common uses for this funding in 2014/15 was to buy new equipment.
But while the impact of the funding and resultant new equipment was seen to universally improve participation in sport, and the general health of students, there remained concern as to sustaining the positive effects in following years. With many secondary schools limited by costs and space, offering continuing coaching and sessions for a wide variety of sports can be challenging.
All of the schools surveyed by the DoE had access to playgrounds, and three quarters had either a playing field or multi-purpose hall. This makes it clear that there is a real opportunity to make sports more accessible, but equipment needs to be an investment that will last. The right sports equipment has to be durable and versatile, maximising the opportunity for involvement in sport, and making full use of multi-purpose spaces.
Versatile equipment for: Football
According to FA Guidelines, senior sized goals have to be used for all competitive football matches of Under 15s upwards, but these posts can also be used for matches for Under 13 and Under 14 age groups as well. For players aged 7-10, the FA recommends smaller sized posts.
Post guidelines
5v5 posts: U7, U8
7v7 posts: U9, U10
9v9 posts: U11, U12
11v11 posts: U13 – 18+
Weighted goals
While socketed goals offer security and safety, it is likely that schools may also require portability if they are not able to have a permanent pitch for football. In these cases, a self-weighted goal is a perfect option.
As a market leader, Harrod UK are proud to have designed and manufactured the first integral weighted goals, which have now become an industry standard.
With a unique roller system, the Hi-Raise wheels allow for quick positioning and removal of these posts, making them ideal for synthetic multi-sport surfaces.
Folding posts
Another excellent option for multi-sport surfaces is a fence folding goal post. This design uses hinged supports to allow it to fold against a fence when not in use, freeing up space for other sports.
Fence folding goals are hinged so that they can be set up or stored with minimal difficulty, offering more freedom and flexibility around their use.
Rugby/Football combination
Many schools may have enough space for a football pitch, but not necessarily enough to also accommodate a dedicated rugby field as well.
In this case, a hybrid goal could prove to be the most useful option. By combining a football goal and rugby uprights, either sport can be played on the same surface without the need to remove goalposts, allowing for the versatility of multiple posts combined with security of a socketed goal.
Versatile equipment for: Hockey
Made from wood or steel, there are variations of hockey goals for all environments - from schools that play competitively to those that offer hockey as a seasonal activity.
As with football goals, hockey goals on synthetic surfaces can be either integral weighted or fence folding style. Another Harrod innovation, self-weighted aluminium goals, are now an industry preference. The quality of this type of post is such that Harrod's own were used for both the 2012 and 2016 Olympic games.
Indoor/training
For indoor hockey, a 3m x2m x1m aluminium 'wheelaway' goal and backboard can easily be fitted and moved by two adults, making it easy to set up and fold away, allowing any hall to be used for indoor hockey practice.
For larger group sessions, folding target boards allow quick and versatile assembly on any surface and are ideal for practice time or larger group lessons where posts are not required.

Alternatively, mini hockey training goals are a great way to play small-sided games without using full-sized posts.
Versatile equipment for: Netball
While freestanding netball posts are not uncommon in school halls around the country, there are two variations that could prove to be beneficial to schools that are looking to increase the number of sports available to their students:
Telescopic posts
By adding adjustability to a standard freestanding aluminium post, schools can enable younger students to take part in practice and full games without the need for additional equipment.
Having a single, telescopic upright that can be adjusted to multiple heights means that any age group can take part, and in doing so makes netball available to more students, creating a further opportunity to spark a passion for sports.
Multi-sport posts
One of the best ways to make as many sports available as possible is to use posts that have been specifically designed for multiple uses. Combination netball posts feature reinforcements and cleats so that mini tennis or badminton nets can be fitted, allowing for three sports to be played with just one set of posts.
High 5
To help children get involved in netball, England Netball support a version of the game called High 5.
High 5 is an entry level version of the game aimed at children aged between 9 and 11 years old. As well as offering 5-a-side and 7-a-side games, High 5 is open to mixed teams. One of the most important parts of this version of the sport is rotation, allowing every player to move around and play in every position on the pitch.
Innovation and general safety
Harrod are proud to be innovators, creating new and pioneering ways to help schools nurture the sporting potential of their students and helping to bring a passion for sport to the next generation.
Safety for all is at the heart of Harrod's innovations, and with so many children taking part in a range of sports it is vital that equipment and playing surfaces are regularly checked and maintained. As well as minimising damage and ensuring the longevity of things like goal posts and nets, regular maintenance also safeguards those taking part and combats any risk of injury.