---
Looking To The Rugby World Cup 2019 In Japan
2019 is set to be an incredible year for international rugby, with eyes already looking towards the World Cup in September. With previously supplying and delivering the Rugby Posts to the last two tournaments, New Zealand and England, Harrod Sport were hopeful of repeating this at the Japan 2019 Rugby World Cup.
In March 2016, Japanese distributor Kofu visited the UK to sign a deal as the first, and exclusive Harrod Sport distributor for Japan. Following on from this, Kofu received the contract to install Harrod Sport's 17m Millennium Rugby Posts in all 12 host stadia for the Rugby World Cup.

In February 2017, Harrod Sport's Sales Manager John Robinson visited Japan to oversee the installation and erection of the first set of posts at The Ecopa Stadium in Fukuroi. He was given the great honour of taking to the full-sized pitch and kicking the first goal through the new posts (even if it was in his socks). John Robinson and Kevin Utton returned to Japan in 2018 to visit Osaka for a Turf Summit. They were asked to present to the Rugby World Cup organising committee and all the grounds managers of the 12 host stadiums. Whilst visiting, they were also introduced to the 2020 Tokyo Olympic competition mangers to discuss Harrod Sport's future involvement in Japan in 2020.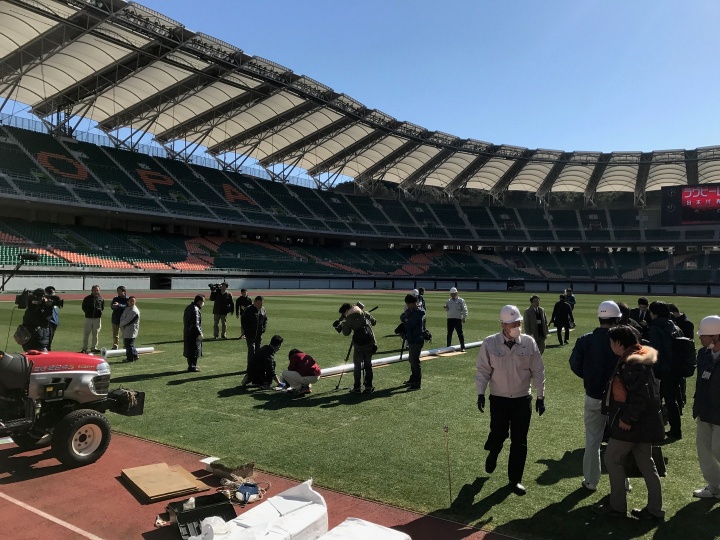 Harrod Sport are immensely proud of their fantastic relationship with Kofu which has grown from strength to strength throughout the past 3 years. They are honoured to be able to say they will be the exclusive supplier of Rugby Posts to the 2019 World Cup and look forward to an exciting future for Harrod Sport in Japan. Where performance and quality is essential, Harrod Sport continue to be the No.1 choice worldwide.