---
On the 3rd of September, we invited Chloe and Ross to Harrod Sport for a day of meet and greets, a tour of the factory and a lunch, in aid of The Ron Harrod Foundation.
Badminton player Chloe Dennis and Racketlon champion Ross Wilson from Suffolk have been sponsored by Harrod Sport through the Ron Harrod Foundation for 2018, to help fund towards their sporting development.
The company's MD Stephanie Harrod greeted Chloe and Ross with their guests, alongside our Sales & Marketing Director Kevin Utton, and Marketing Assistant Molly Spring.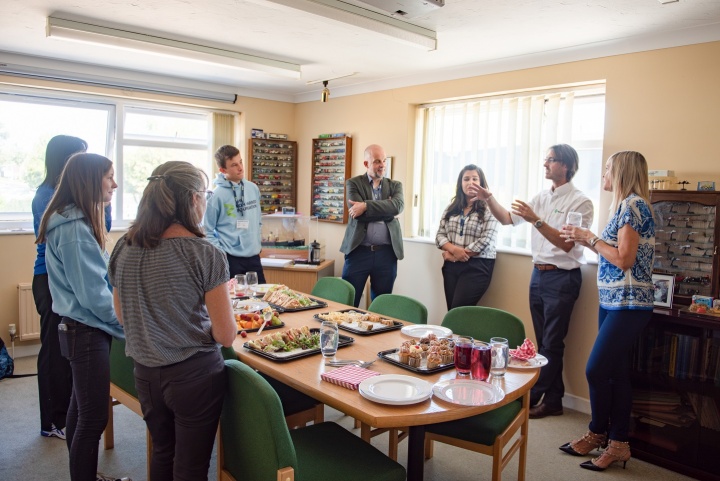 The day was a huge success, which allowed for us to catch up with what Chloe and Ross had been doing. Ross had just got back from Zurich for the Racketlon World Championships, where he successfully won a Gold medal for GB - Ross was excited to show us the Gold medal he had achieved!
The young sporting talents were particularly impressed with our netting department within the Harrod Sport factory, and were over the moon with their RHF printed hoodies! Chloe's mum Janet explained how much they loved the day: "We had a great day meeting you all, and we especially loved Kevin's tour!"
We are accepting nominations for funding in 2019. Do you know a promising young sportsperson from Norfolk or Suffolk, who is struggling to fund themselves?
If you are a sports club, association, parent or coach, you can nominate a local under-25s to receive a grant.
Nominees must be:
25 or under
From or living in Norfolk or Suffolk
Click here to nominate a young local athlete for 2019: https://www.harrodsport.com/ron-harrod-foundation