---
Ron Harrod Foundation 2021 Winners Announced
Ron Harrod's Legacy
The Ron Harrod Foundation is something which is very dear to our hearts and this year more so than ever. In December 2020, we lost our beloved founder, Ron Harrod.
Ron Harrod not only founded Harrod Sport, but was the inspiration behind awarding young athletes funding to assist them with their sport for a year and beyond that, as they go on to excel.
We are determined to help young athletes who require extra funding to assist with their goals and aspirations in relation to their sport to help make dreams achievable. This ideology is more prominent than ever as we ensure Ron's legacy lives on through our continued support of members of the sporting community.
2021 Athletes
We are extremely happy to announce we have chosen 3 exceptional athletes for this year's Ron Harrod Foundation funding. They all represent a different aspect of sport, and we can't wait to be part of their journey.
Former professional footballer Iwan Roberts, Foundation Ambassador for 2021 said "Being part of the judging panel for The Ron Harrod Foundation is truly inspiring. Watching young ambitious athletes get the funding they need to exceed in their sports is incredible and this year's winners are certainly deserving. Our recipients Fiona, Joshua and Alice have all shown how sport can be used to bring communities together and give light to people through what has been a tough year. I'm looking forward to seeing them excel and wish them all the best for the future."
Meet the 2021 Winners – Alice
Alice, pictured above, with her sailing partner Bella

Our first athlete for 2021 is Alice Masterman; an exceptional sailor, aspiring to compete in the 2024 Olympic Games. Alice is also currently training for the 49er European Championship, held in Greece this September and the 49er FX World Championship, held in Oman in November.

When we asked Alice how winning the Ron Harrod funding made her feel, she said 'The award adds motivation as it shows other people believe in my potential and want to help me in any way possible, which is really heart-warming and I am extremely grateful.

This money will contribute towards new equipment (which I was stressed about buying), meaning I can perform to the best of my ability and focus all of my energy on sailing events'.
Meet the 2021 Winners – Fiona
Fiona Stokes is also one of our 2021 athletes; a talented golfer who inspires Junior golfers through her coaching and inspirational play. Fiona coaches alongside her own competing and is playing on the PGA Regional Circuit and in the Women's Professional Golfers' Association, as well as studying a professional Golf Studies Degree.

Upon being awarded the money, Fiona told us, 'being selected as a Ron Harrod Foundation winner means a great deal to me in many ways – even more so this year. In what would have been a challenging year financially, this funding will ensure all those opportunities are viable, ultimately allowing my progression'.
Meet the 2021 Winners – Joshua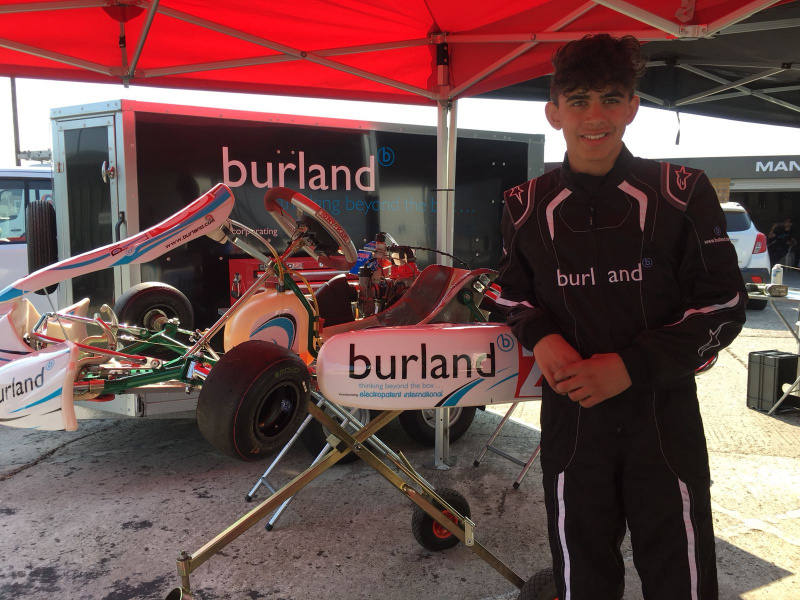 Joshua Vallance is our third and final chosen athlete for this year's Ron Harrod Foundation. He is a passionate and determined athlete, having competed in Motorsports since he was 9. This year, Josh will be competing for the British Title in the '2021 Super One Kart Championship'.
Upon receiving the news of his award, Josh said, 'The last person to take the racing world by storm from a humble background was Lewis Hamilton, who himself said that nobody from his background will have the opportunity he had, but it took one person to believe in his ability and the rest is history. Thank you for believing in me.'
The impact this has on young athletes and their hopes for reaching a professional standard is unquantifiable.
Three years of sponsoring athletes
This is our third year of sponsoring athletes and we are exceptionally proud of the community we have built around the Ron Harrod Foundation and are honoured to be affiliated with such talented people. With Alice, Fiona and Joshua as our selected athletes for 2021, that takes us to a total of nine sponsored athletes overall.
Director of Sales and Marketing Kevin Utton, who has been involved with the foundation since it began, commented, 'it has been an unprecedented time for us all and recently, sport has suffered significantly. Our chosen athletes are an inspiration to us all at Harrod Sport and we can't wait to support them and document their story along the way.'
Nominations for 2022 will reopen in August of this year. This process will be available on our website with more information to be released closer to the date.