---
The Difference Between Rugby Union & Rugby League | Harrod Sport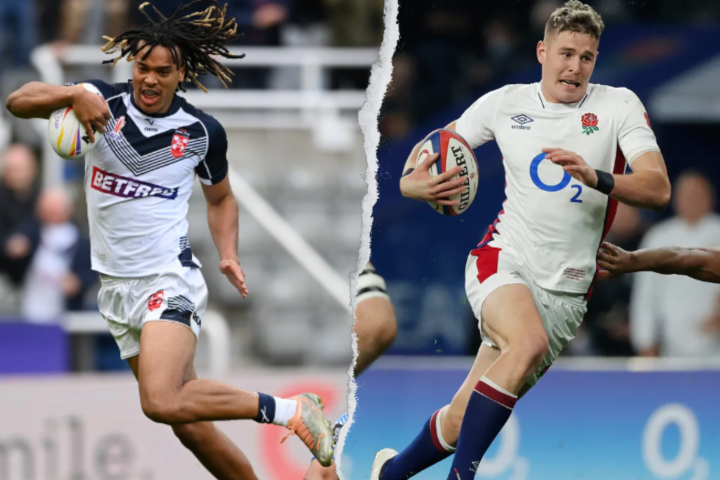 Rugby Union and Rugby League: What's the Difference?
International tournaments can introduce whole new generations to a sport, inspiring children to participate, join a club and emulate their heroes. Many of England's current Rugby Union internationals will remember watching Jonny Wilkinson's drop goal and Martin Johnson lifting the 2003 World Cup as a child and will be hoping to emulate that success at the 2023 finals in France later this year.
But for those who might be watching their first Rugby Union World Cup, there are likely to be a lot of questions about how the game works. This article will answer one of the most common: "What is the difference between Rugby League and Rugby Union?"
On the surface, both seem to be very alike, with 80-minute matches, a similarly shaped ball and scoring through a combination of tries, penalties, drop goals and conversions. But since 1895, when a disagreement about the game becoming professional saw rugby split into these two codes, both sports have evolved and developed many distinctions.
Players
One of the most noticeable differences between the two sports is the number of players – a Rugby Union team is allowed to have 15 players on the field, while Rugby League is limited to 13.
During a match, Rugby Union teams are allowed to make seven substitutions. Rugby League teams can make up to ten changes
Scoring

While the methods of scoring are the same, the points awarded are different – except for conversions, which are worth 2 points in both sports:
| | | |
| --- | --- | --- |
| Type of score | Rugby Union | Rugby League |
| Try | 5 points | 4 points |
| Conversion | 2 points | 2 points |
| Penalty | 3 points | 2 points |
| Drop goal | 3 points | 1 point |


Pitch markings
Regulation Rugby Union pitches are limited to a maximum of 144m x 70m.
Rugby League pitches have a maximum size of 122m x 68m.
While Rugby League pitches are generally smaller (which makes sense as there are fewer players), within these maximum limits, it is possible for both types of rugby to be played on the same pitch. The most significant difference between the pitches are the markings.
Check out Harrod Sport's Guide to Rugby League Dimensions and Guide to Rugby Pitch Dimensions for more detailed information on how to accurately mark out rugby pitches.
Shared pitch markings
Touchlines: Marking the outer edges of the playing area.

Try line/ goal line: Marked at each end of the pitch. A try is scored when the attacking team touches the ball down beyond this line. Goal posts are positioned at the centre of this line.
Dead-ball lines: Marking the end of the playing area, behind the goal lines.
Halfway line: Marked in the middle of the pitch to split it into halves. Kick-offs are taken from a cross marking the centre of the pitch at the middle of the halfway line.
Rugby Union markings
22-meter line: Marked 22-meters from the try line in each half. It is mainly used for 22-metre drop-outs.

Dashed lines: Marked the length of the pitch at 5m and 15m from the touchline, and across the pitch 10m either side of the halfway line. These markings are used as reference points for positioning during the match e.g., setting a scrum.
Rugby League markings
Transverse lines: From each goal line, white lines are marked at 10m intervals. (10m, 20m and 30m lines in each half, plus the halfway line).

Distance markers: White numbers with red outlines. Positioned on each line to show the distance from the try line.
40m line: An unbroken red line marks the 40m lines in each half.
Scrum lines: Marked 10m and 20m from the touchline.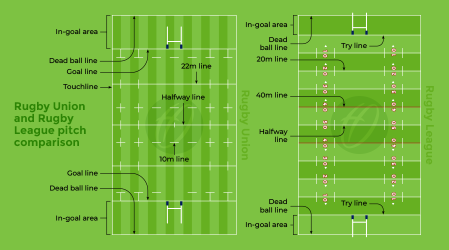 Tackling
When a Rugby Union player is tackled, they must release the ball, allowing players from either team to collect, as long as they are coming from an onside position and are on their feet. To retain possession, teammates may sometimes try to physically stop the ball carrier from hitting the ground. This is called a maul. If the ball has already hit the ground, then the battle for possession is called a ruck. When a Rugby League player is tackled the opposition players must retreat. The attacker must then stand up and roll the ball back to their teammate with their foot to restart play.

Possession
How teams are allowed to possess the ball is one of the most significant differences between Rugby League and Rugby Union as this impacts the pace and rhythm of play.
Possession in Rugby Union is indefinite, meaning that the attacking side can continue as long as they retain control of the ball, do not concede a penalty or score points. If the ball is kicked out of play during a rugby union match, the game is restarted with a lineout rather than a scrum, with eight player scrums being reserved to resolve minor rules infringements like knock-ons.
Rugby League possession is limited to six tackles (or chances to score), after which, the opposition takes possession wherever the final tackle is made. To avoid this, it is common for teams on their fifth tackle to kick the ball away. This will force the opposition as far back as possible before they regain possession. If the ball goes out of play after such a kick, play restarts with a six player scrum, which is also the method of restart following most minor infringements.
Summary
Rugby Union

Rugby League

Players

15

13

Substitutions

7

10

Possession

Unlimited

Six tackles

Points

Try 5, conversion 2

Try 4, conversion 2

When the ball goes into touch

Line-outs

Scrums

Record time with the ball in play

39 minutes and 14 seconds (Wales vs Ireland, 4th February 2023)

63 minutes and 20 seconds (Super League post-lockdown)

Competitions

Rugby World Cup

Six Nations

British and Irish Lions

Premiership

Super League

Challenge Cup

World Cup

National Rugby League (NRL) Australia
FAQ
Is Rugby Union bigger than Rugby League?
While both codes are consistently among the most popular sports in the UK to watch and participate in, Rugby Union is generally considered the bigger of the two. This is mainly due to the high profile of international competitions like the World Cup, Six Nations and Lions Tours.

Why did rugby split into League and Union?
In 1895, twenty-one clubs in the Rugby Football Union (RFU) chose to leave and form their own organisation, originally called the Northern Rugby Football Union (today called the Rugby Football League). This was due to disagreements about paying players who had to take time off from work for matches.
As a result, Rugby League was the first of the two codes to pay players as professionals. The RFU remained against the idea of professional players and resisted for another 100 years, until Rugby Union finally became professional in 1995.
Can Rugby League players play Union?
Yes. Players can switch between sports, but depending on their position it could be challenging due to the different physical and tactical demands.
This is particularly true of forwards who need a strong kicking game for Union and strength and pace when running with the ball in League.
Does England play Rugby Union or League?
England has both Rugby League and Rugby Union teams at international level.
England's national Rugby League team was founded in 1904 and first appeared in the Rugby League World Cup in 1975, finishing runners up on three occasions (1975, 1995 and 2017).
England's Rugby Union team first played in 1871 and has seen great success, both in Home Nations competitions and at the World Cup, becoming the only team from the Northern Hemisphere to win the tournament in 2003.
Which is older Rugby Union or Rugby League?
Rugby Union is the older of the two codes by 24 years. The RFU (Rugby Football Union) was formed in 1871, with the game splitting into two codes in 1895.

Is the Six Nations Rugby Union or Rugby League?
The Six Nations is an annual Rugby Union tournament contested between England, France, Ireland, Italy, Scotland and Wales. It began as a four-team Home Nations Championship but has expanded twice – adding France in 1910 and Italy in 2000.
Rugby League has a Four Nations tournament contested between Australia, New Zealand, England and a qualifying team. However, the last edition of this competition was held in 2016.
---
Related Posts