Volleyball Nets and Posts
Volleyball Posts manufactured in the UK and available in aluminium or steel. Harrod Sport volleyball posts come in a multitude of designs, ranging from the competition telescopic post, wall mounted system to demountable beach systems. Volleyball nets, post protectors and antennaes complete the range.
Refine By
Type

Item

Location

Material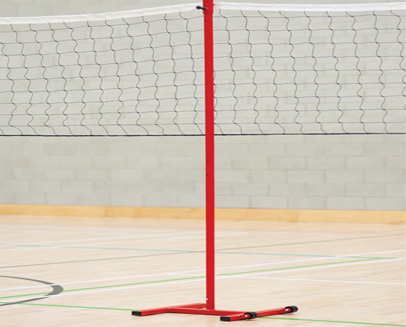 High quality Volleyball posts and equipment
Regardless of the level you play at, all of our indoor, outdoor and beach volleyball posts and nets are developed, prototyped and built to professional standards of quality and safety in Lowestoft.

Strong and innovative
From refining designs and materials to improving safety, portability and easy storage, Harrod has prided itself on innovation for over 60 years.
All Harrod volleyball posts are independently certified and adhere to European safety standards.
Types of volleyball posts
Indoor posts
Floor Fixed Competition Volleyball Posts are designed to competition standard and feature a 60mm x 40mm steel telescopic top upright and safe net tensioning system, which allows simple transitions between heights.
The floor fixed version has a 8mm thick steel base with floor fixings and plastic wheels. Floor plugs are not included.
Outdoor posts

Sportset Beach Volleyball posts are a lightweight, tournament standard post that is easily set up and dismantled thanks to the use of Harrod's unique turf screw.
Designed for both practice and play, these versatile posts can be set up on grass or beach courts.
Portable posts
Used at most UK tournaments and Beach Grand Prix, this portable volleyball net model is designed by Sportset and made under licence by Harrod UK.
Able to be assembled by two people in less than ten minutes, the portable volleyball net is both strong and lightweight thanks to aluminium tube construction and can be set at either Ladies' or Men's competition height.
Designed for club and tournament use, it can be assembled for play on grass or sand and is supplied with a carry bag, steel handled rubber mallet & steel ground pegs.
Note:
All volleyball posts need to be anchored/fixed to conform to regulation.
Installation of floor fixed posts will require a local contractor or sportshall specialist.
Volleyball court dimensions
Standard: 18m x 9m
Front Zone: 3m x 9m
Back Zone: 6m x 9m
Service Area: 3m from the right side of the back line
Net Heights
Men's: 2.43m
Women's: 2.24m
Junior: 2.13m
Maintenance
If properly maintained, volleyball posts can last for many years, but general wear and tear could reduce the life of your equipment.
To protect against this, regular maintenance is crucial. This includes regular checks of fixtures and fittings and the use of maintenance paint or spray, when required.
Harrod produce a wide range of volleyball posts, nets and court fixings for all age groups, abilities and courts. Take a look at our range to find the right type for your school or club.