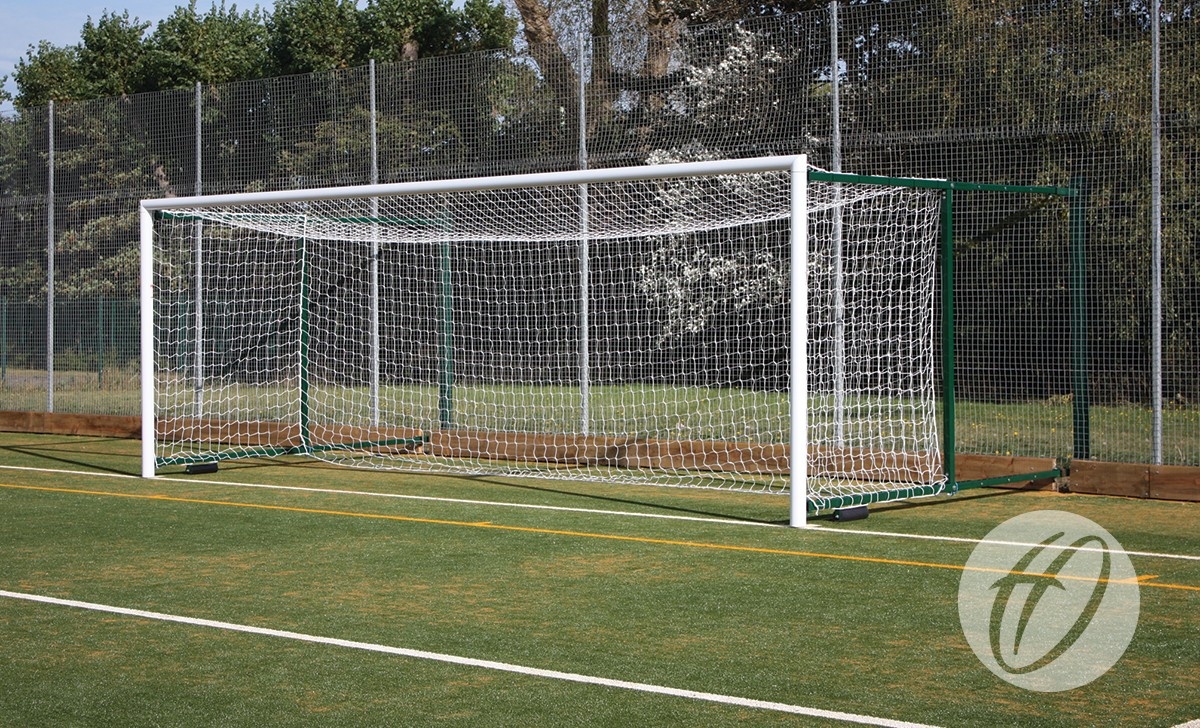 3G Fence Folding Goal, 2.3m to 3.5m Proj. - Senior
FBL-613
Harrod Sport 3G Fence Folding Goal with a 2.3m to 3.5m projection, ideal for synthetic surfaces and multi-use games areas designed to fold flush against surrounding fence. Hinged supports allow this goal to fold effortlessly by two people when not in use, allowing space and freedom for other sports. Not recommended for official matchplay.
Please Note: All recommended nets and extras must be purchased separately (unless stated as included with product) and can be found listed by clicking the View Set and Buy button. Please ensure that all boxes are ticked for the required product before proceeding to checkout.

Unit: Set
Weight: 537.00kg
Features:
Fully welded corner joints provide superior strength and added safety.
Fully zinc plated support posts and side supports.
Specification:
Size 7.32m x 2.44m.
Uprights & Crossbars made from 102mm x 112mm reinforced aluminium.
Anchor posts made from 100mm x 100mm zinc plated steel.
Adjustable telescoping side bars and vertical support bar made from 60mm x 60mm zinc plated steel.
Zinc plated internal steel fixing plate.
Goal frame polyester powder coated white.
Support frame polyester powder green.
What's Included
4 Uprights
2 Crossbars
4 Top Sidebars (2 Left, 2 Right)
4 Bottom Sidebars (2 Left, 2 Right)
4 Support Braces
4 Rollers
4 Projection Adjusters
4 Through Fence Arms
4 Projection Sockets
100 Net Hooks
All Bolts & Fixings

1 Set = 2 Goals (with projections), 4 Sockets and 100 Net Hooks
FAQs
Q: What is the size of a senior goal?
A: A senior goal is 7.32m Wide x 2.44m High
Q: How far from the fence does the goal project when folded?
A: The goal projects 227mm when folded.
Q: Are your goals metal?
A: Yes, We offer goals in a variety of materials including Aluminium, Steel and PVC.
Q: What age is a senior sized goal for?
A: According to FA Guidelines, senior sized goals should be used for all competitive football matches from age Under 15 upwards, but can also be used for matches for Under 13 and Under 14 age groups as well.
Q: Why should I buy Aluminium goals?
A: This material is lighter in weight and easily portable, but still very strong. Rust free.
Q: What is the total depth from the front of the goal to the back of the anchor post?
A: The total depth from the front of the goal to the back of the anchor post of the 3G fence folding goal is 593mm
Additional Info
We would strongly advise that where recommended nets are listed they are purchased with the goal to ensure best fit.
The recommended net for this model has been specifically tailored to fit this goal.
We'd love to hear your feedback - please click here to leave a review.
---
Football Foundation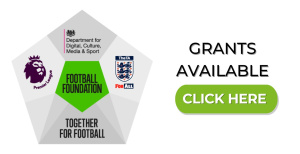 3G Fence Folding Goal, 2.3m to 3.5m Proj. - Senior (Set)
The items below are required for a complete set.
Options, Extras & Spares
The items below are required for a complete set.