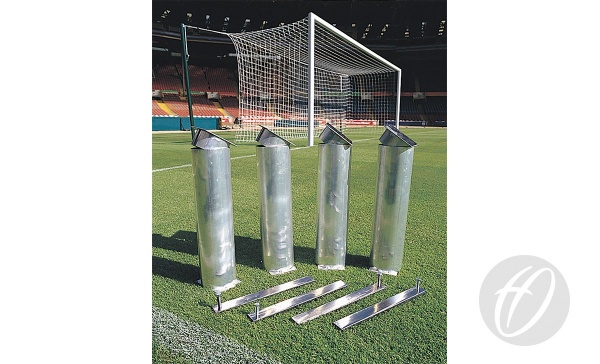 4G Stadium Goal - Senior
FBL-548-4G
Harrod Sport uniquely designed 3G Stadium Football Goal is used at top level venues including Wembley Stadium, St. George's Park, Millennium Stadium, Premier League, Championship and Football League clubs.
Please Note: All recommended nets and extras must be purchased separately (unless stated as included with product) and can be found listed by clicking the View Set and Buy button. Please ensure that all boxes are ticked for the required product before proceeding to checkout.

Unit: Set
Weight: 80.00kg
Features:
Fully welded corner joints provide superior strength and added safety.
Micro adjustable foot on each upright allows exact upright height.
Socket wedges ensure posts are held firm in the socket with no movement.
Specification:
Goal Size 7.32m x 2.44m.
Uprights & Crossbars made from 102mm x 112mm reinforced aluminium.
Zinc plated internal steel fixing plate incorporating corner net clamp.
Stainless steel bolts throughout.
Polyester powder coated white.
Conforms to the latest British and European Standards BS EN 748
What's Included
4 Uprights
2 Crossbars
4 Sockets
4 Socket wedges
4 Drop In Lids
210 Net Hooks
4 Adjustable Feet
All Bolts & Fixings

1 Set = 2 Goals, 4 Sockets and 210 Net Hooks
FAQs
Q: What is the size of a senior goal?
A: A senior goal is 7.32m Wide x 2.44m High
Q: Are your goals metal?
A: Yes, We offer goals in a variety of materials including Aluminium, Steel and PVC.
Q: What age is a senior sized goal for?
A: According to FA Guidelines, senior sized goals should be used for all competitive football matches from age Under 15 upwards, but can also be used for matches for Under 13 and Under 14 age groups as well.
Q: Why should I buy Aluminium goals?
A: This material is lighter in weight and easily portable, but still very strong. Rust free.
Additional Info
We would strongly advise that where recommended nets are listed they are purchased with the goal to ensure best fit.
The recommended net for this model has been specifically tailored to fit this goal.
We'd love to hear your feedback - please click here to leave a review.
---
Football Foundation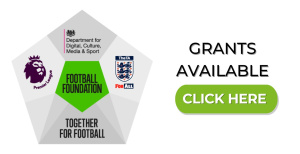 4G Stadium Goal - Senior (Set)
The items below are required for a complete set.
Options, Extras & Spares
The items below are required for a complete set.
Related Products