---
Harrod Sport introduces the world's first FIFA Quality certified goal
In late 2020, Harrod Sport became aware of a new programme by FIFA to provide accreditation to goals and equipment. After being invited to apply, the Stadium Pro goal was approved, making it the first ever goal to be officially FIFA accredited.
"We have always had a close working relationship with the International Governing Bodies and FIFA has been no different. Once we heard they were launching a FIFA Quality Programme for Football Goals, we knew we wanted to be a part of it, having already supplied many of the World's most prestigious clubs and competitions." Said Kevin Utton, Director of Sports Sales & Marketing.
"Thankfully for us, our wealth of experience for being part of contracts for major events, meant our products themselves needed very little amends to meet the strict criteria, what we did have to do was work our way through FIFA's policies and criteria for quality, humanity and fair treatment of all stakeholders, which was a process we were only too pleased to complete and pass with flying colours.
"Having our products used at major events and now also rubber stamped as FIFA Quality means a lot to all our staff, customers and everyone associated with Harrod Sport."
The application process
To date, the process has taken exactly one year to complete. From start to finish, the application process has required the following steps:
Amend product specifications to meet certain criteria laid out in the standard
Update our ISO9001 certification for 2021
Co-opt FIFA into certain insurance policies
Have all goals and equipment independently tested
Pass an independent social audit by the WFSGI (World Federation of the Sporting Goods Industry)
Have FIFA approve all of the above.
The testing process
Products must be independently tested by a UKAS ISO 17025 and FIFA Accredited Test House to meet all aspects and criteria of "FIFA Quality Programme for Football Goals – Test Manual".
Goals are tested for:
Correct dimensions
Specification
Materials
They also must pass strict strength and stability tests, along with passing checks for entrapment and crushing. Accreditation lasts for four years, at which point re-testing is required. Any changes made following accreditation must be communicated to FIFA and may result in additional tests.
Our goals already met all aspects of the FIFA Quality Programme as they already complied with the European Standard EN 748 and were also designed to meet the more stringent safety requirements of EN 16579 and EN 913. We did make improvements to the Free-hanging Net Supports to cover finger entrapment as these had previously not been covered by any standard. All future products will also be designed to comply.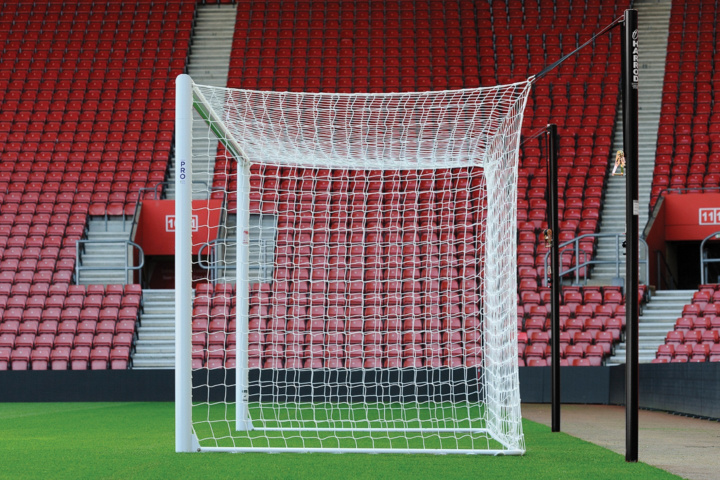 The importance of accreditation
Accreditation is a series of processes and policies which need to be completed in order for FIFA to be confident in the product not only meeting quality standards but also safety standards.
FIFA also have criteria set around the company producing the equipment such as ISO9001 accreditation, certain levels of liability & product insurance as well as independent assessment of the companies' internal policies and supply chains.
Accreditation currently covers socketed goals for stadiums, but FIFA are looking at adding other types of goal in the future.
Key feature – height adjustment system
The stadium pro precision height adjustment system, which is protected by Patent No GB2552496, is a development in design and manufacturing that will greatly aid grounds professionals.
The system allows for the goal to be accurately adjusted by up to 100mm in micro-adjustments whilst the goal remains in situ. All other goals on the market require the operator to remove the goals and either use shims or raisers in the bottom of the socket, or very simple levelling feet that have no particular assistance to micro adjustment. The goal height can only be checked again in this way once it is installed again back into the ground which is very time-consuming.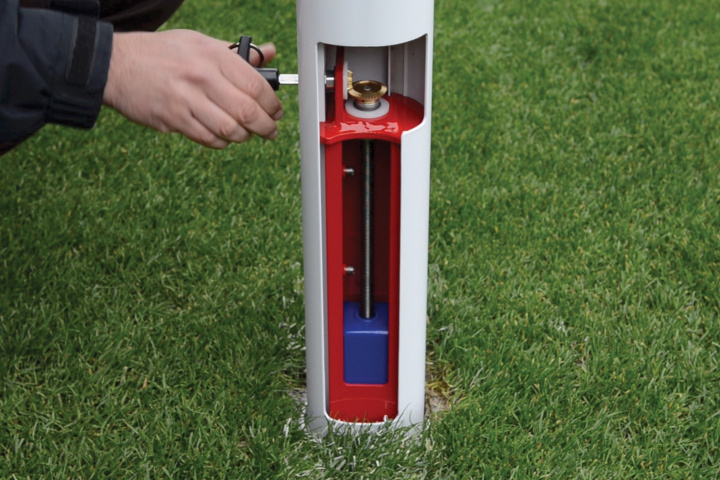 Alan Ferguson, Senior Pitch Management Manager, FIFA said:
"Having been in the football world for many years I know quality and service when I see it, and that is exactly why I have had the pleasure of working with Harrod Sport for many years I am very familiar with their goals and have had the privilege of seeing them on my travels all over the World.
"Now in my role as Senior Pitch Management Manager at FIFA, I know if Harrod Sport are supplying product for a tournament, it will be to the highest possible standard. I am delighted they are now working in partnership with FIFA and have their products FIFA Quality approved."
The 4G Stadium Goal is already used in many Schools, Colleges, Universities, Councils, Semi-Professional and Amateur Clubs. The 4G Stadium Pro Goal is used by clubs including West Ham United, Watford, Bristol City and Leeds United.
Contact us to enquire about upgrading your existing goals or ask about the new FIFA Accredited package.