---
Harrod Sport to supply goals for every stage of UEFA Euro 2020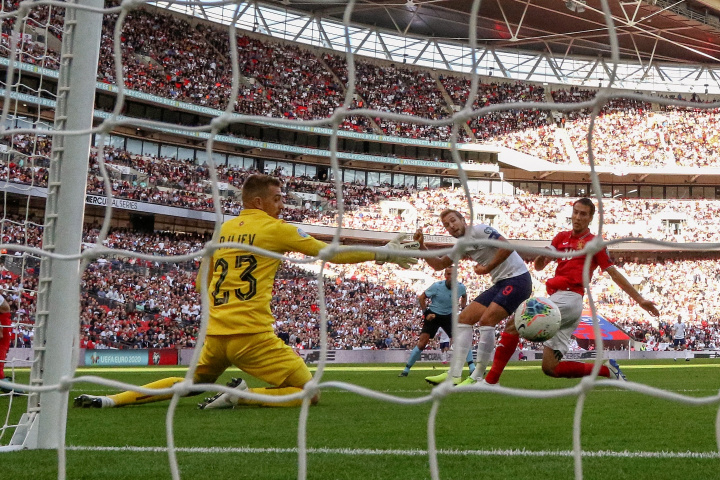 Harrod Sport are thrilled to be involved in the European Championships returning to the UK for the first time since 1996. For this summer's tournament, Harrod Sport is delighted to be supplying goalposts for six prestigious venues, including Wembley Stadium and Hampden Park.

In total, Harrod Sport's goals will be used for 31 matches across the tournament (more than half of the 51 fixtures) including the opening game, the semi-finals and the final, as well as England v Scotland and Italy v Wales.
Read on to find out more about the goals, the venues and for your chance to win a set of Finesse goals.
Around the grounds
With so many matches taking place, here is a short guide to the venues that will be using Harrod Sport goals during the tournament.
Wembley Stadium - London (8 matches)
Since the 'White Horse' FA Cup final of 1923, the goals at Wembley Stadium have become a part of English football folklore. In 1966, the crossbar became iconic with Geoff Hurst's 'goal that never was' in the World Cup final versus West Germany. In 1977, Scotland took the bragging rights as the Tartan Army swarmed onto the pitch to celebrate after the final whistle following a famous 2-1 victory.
The last time England and Scotland met at a major tournament was at Wembley in the Euro '96 group stages, best remembered for Paul Gasgoine's goal and celebration. Twenty-five years later, will Andy Robertson and Che Adams' side be able to upset the auld enemy?
Harrod at Wembley
Harrod Sport has a rich history of supplying goalposts for Wembley Stadium, stretching back to 1996 when England last hosted the European Championships.

But it is not just international football - Harrod Sport have supplied goals for every game played at Wembley Stadium in the last 25 years,, including the FA Cup and Carabao Cup finals, the Championship play-offs and both the 2010-11 and 2012-13 Champions League Finals.
In total, Harrod Sport goals will be used in all eight matches at Wembley Stadium during this summer's tournament.
Wembley fixtures
13th June: England v Croatia (Group D)
18th June: England v Scotland (Group D)
22nd June:Czech Republic vs England (Group D)
26th June: Group A Winner v Group B Runner Up (Round of 16)
29th June: Group D Winner v Group F Runner Up (Round of 16)
6th July: Semi-final 1
7th July: Semi-final 2
11th July: Final
Hampden Park - Glasgow (4 matches)
Built in 1903, Hampden Park has played witness to countless iconic matches, not least Scotland's near-miss against Czechoslovakia in the playoff for the 1962 World Cup finals – a defeat they will hope to rectify when they take on the Czech Republic on 14th June.
Hampden Park made history in 1937 when 149,415 fans – a record in British football – crammed into the stadium to watch Scotland defeat England 3-0. This summer's tournament marks Scotland's first European Championships since 1996, signalling a new chapter in the history of the world's oldest international stadium.
Hampden Park fixtures
14th June: Scotland vs Czech Republic (Group D)
18th June: Croatia vs Czech Republic (Group D)
22nd June: Croatia vs Scotland (Group D)
29th June: Group E Winner v Best 3rd place Groups A/B/C/D (Round of 16)
Stadio Olimpico - Rome (4 matches)
An iconic stadium, the Stadio Olympico has pedigree in hosting major tournaments, including the 1968 European Championships final, Italy's group matches at Italia '90 and multiple European Cup finals.
The Olimpico will host four matches this summer, including the tournament's opening game on July 1st, Italy v Wales on June 20th and the last Quarter final on Saturday, July 3rd.
Stadio Olympico fixtures
11th June: Turkey vs Italy (Group A)
16th June: Italy vs Switzerland (Group A)
20th June: Italy vs Wales (Group A)
3rd July: Quarter final 4
Saint Petersburg Stadium - Saint Petersburg (7 matches)
Built for the 2018 World Cup, Krestovsky Stadium in Saint Petersburg is the city's second stadium. It will be familiar to England fans as the site of their team's 3rd-placed playoff defeat to Belgium in the tournament.
As Dublin withdrew from hosting due to Covid-19, Saint Petersburg Stadium will take on three additional group stage matches at this summer's European Championships.
Saint Petersburg Stadium fixtures
12th June: Belgium vs Russia (Group B)
14th June: Poland vs Slovakia (Group E)
16h June: Finland vs Russia (Group B)
18th June: Sweden vs Slovakia (Group E)
21st June: Finland vs Belgium (Group B)
23rd June: Sweden vs Poland (Group E)
2nd July: Quarter final 1
Puskás Aréna - Budapest (4 matches)
Opened in 2019, the Puskás Aréna was built to replace the nation's former national stadium, both named in honour of national team captain and legend Ferenc Puskás.
This summer, the Puskás Aréna will be hosting three games from the tournament's 'group of death'. As well as Hungary and Germany, Group F includes current champions Portugal and World Champions France, who face off in Budapest on 23rd June.
Puskás Aréna fixtures
15th June: Hungary vs Portugal (Group F)
19th June: Hungary vs France (Group F)
23rd June: Portugal v France (Group F)
27th June: Group C Winner v Best 3rd place Groups D/E/F (Round of 16)
Parken Stadium - Copenhagen (4 matches)
Parken Stadium in Copenhagen opened in September 1992, the same year that Denmark achieved one of the competition's most remarkable upsets: winning Euro '92 despite being a late replacement for disqualified Yugoslavia.
Parken Stadium will host all of Denmark's group stage matches, the first major international tournament games to be held there.
Parken Stadium fixtures
12th June: Denmark vs Finland (Group B)
17th June: Denmark vs Belgium (Group B)
21st June: Russia vs Denmark (Group B)
28th June: Group D Runner Up v Group E Runner Up (Round of 16)
4G Stadium Pro - the goals the world will be watching
The goals that will be gracing five of these venues this summer will all be the 4G Stadium Pro Goal. Made from reinforced aluminium, this model is the latest evolution in goal posts, with technology to match:
Precision height adjustment gives groundspeople 100mm of flexibility while the posts are in place, making sure that everything is perfect to the mm
Independently tested to BS EN 748 safety standards
Reinforced welded aluminium corner joints to improve strength and provide a flawless appearance.
In Budapest, 3G Foldaway Euro Portagoal will be used for four games during the tournament, including one of the most intriguing fixtures of the group stage - Portugal v France.
Win a set of goals
To celebrate our involvement in the European Championships and to help encourage the next generation of international stars, we are launching a social media competition – your chance to win a set of Finesse goals.
How to enter
Entering the competition is easy!
'Like' the competition post
Tag a friend
Predict the total number of goals in one of the 27 games featuring our goalposts.
Those who guess correctly will be entered into a weekly prize draw for the chance to win a set of Finesse goals:
3 sets of 6 x 4ft Standard Goal
2x 8 x 4ft Standard Goal (Semi finals)
1x 12 x 6ft Match Goal (Final)
The winner of the Final prize will also receive a bonus pack including; a Freekick-Taking Mannequin, Agility Pole, a set of 6 Training Hurdles and a Rebounder.
Winners will be drawn at random each week and, while you can only enter once per match, there is no limit on how many games people can enter predictions for.
Beginning with the opening game and going all the way to the final on July 11th, Harrod Sport and their 4G Stadium Pro Goals will be represented in every single round and will be used at more than half of the matches in total.
From practice and youth goals to training equipment, Harrod Sport's Finesse range offers everything players at all levels need to enhance their individual skills and performance in time to earn a place at Euro 2024 and make some history of their own. Find out more about the Finesse range.
Competition terms and conditions
1. This prize draw is open to anyone based in the UK, and if aged 18 or under you must have permission from an adult to enter. Employees of Harrod Sport and their families, or anyone connected or involved in the administration of the prize draw are excluded from the participation ("Eligible Participants").
2. To participate in this competition entrants must like the post, tag a friend, and predict the total number of goals scored in a game featuring our goals.
3. By entering this competition, the Eligible Participant is indicating his/her agreement to be bound by these terms and conditions.
4. The prize draw will run until Sunday 11th July when the final winner will be drawn. Prior to this, there will be a winner drawn each week until the semi-final. A winner will be drawn for each semi-final and one winner for the final.
5. No responsibility can be accepted for entries not received for whatever reason. It is the entrant's responsibility to ensure that they follow the entry requirements listed above.
6. There will be no limit on how many times people can enter each week, but only one entry can be made per match. i.e., You can guess how many goals will be scored for every game our goals feature in and can enter the following week too. If you are selected as the winner, you won't be entered into the draw again.
7. The prizes on offer are 3 sets of 6 x 4ft Standard Goal, 2x 8 x 4ft Standard Goal (semi-finals) and 1x 12 x 6ft Match Goal (Final).
8. All correct entries will be entered into a prize draw with the winners selected at random by a Harrod Sport representative.
9. The winner of each will be notified within forty-eight (48) hours of being selected. The random draw will take place on the Friday of each week.
10. In the event that the winner refuses or for whatever reason cannot accept the prize, or if Harrod Sport is unable to make contact with the winner within 48 hours of the initial 'winning' notification, Harrod Sport reserves the right to redraw the prize and award it to an alternative winner.
11. The prize is non-exchangeable and non-transferable.
12. Harrod Sport reserves the right to substitute the prize with another prize of similar value, in the event the prize is unavailable due to circumstances beyond Harrod Sport's reasonable control.
13. Harrod Sport has the right to use the winner's details in post promotion publicity, including but not limited to, on Harrod Sport's website, Facebook page, Twitter, Instagram and other marketing communications.
14. All decisions made by Harrod Sport over eligibility or otherwise in relation to the prize draw are final and no correspondence will be entered into.
15. By entering the prize draw, you agree that Harrod Sport is not liable for any loss, damage or personal injury whatsoever suffered or sustained in connection with your use of the prize.
16. When entering the prize draw, you acknowledge that your "Personal Data" (name, address for postage) will have been made available to Harrod Sport and its affiliates for administrative purposes. All Personal Data of the winner will be held and used for the purposes of the prize draw by Harrod Sport in accordance with Harrod Sport's privacy policy (which can be found on Harrod Sport's website) and the Data Protection Act 1998.
17. Personal Data will only be shared if you have opted in to receive marketing material from our partners.
18. Harrod Sport reserves the right to amend these Terms and Conditions on the provision of written notice.
19. Harrod Sport's privacy policy can be found here: https://www.harrodsport.com/privacy-policy