---
How to Become a Football (Soccer) Coach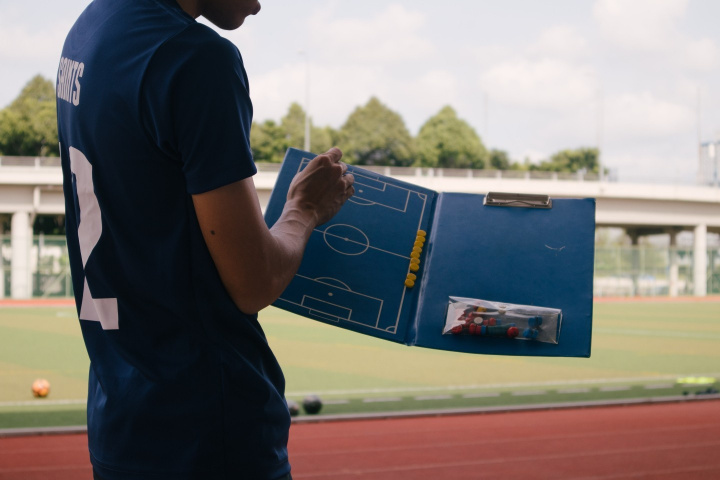 How to Become a Football (Soccer) Coach
Football is a sport that is universally loved and played by people of all ages and abilities. An intrinsic part of the game is coaching and often the success of a team is based on the tactics and expertise of their coach.
To become a qualified football coach, you will need to earn the relevant FA coaching badges for your level. In the UK, the FA offer a series of courses which will equip you with the knowledge and skills to understand the role and help develop your players, so their knowledge of the game increases and they improve both as individuals and a team.
Depending on your ambitions, there are a wide range of levels to coach at - from youth level in schools or at a grassroots team, to being a specialist at a professional club. This article outlines the roles and responsibilities of a coach, which badges you will need, tips on how to gain experience and potential pathways to becoming a coach at your chosen level.

The main responsibilities of a coach
The coach of a team is intrinsic to the way it functions and how successful they can be. A key role of a football coach is overseeing training sessions. This requires planning, preparing and delivering coaching sessions as well as organising equipment and logistics.
Training sessions need to be very detailed and contain a range of exercises to ensure players are both fit and developing skills. A full guide on exercises to get players fit for football can be found here. Football is a very physically demanding sport, and endurance is essential for a footballer due to the resilience needed across a 90-minute game. Some good drills to focus on are:
Interval Training

This is really effective for improving an individual's VO2 Max, which is the maximum rate at which someone's body can consume oxygen during exercise. We recommend using Agility Cones to mark out distances to complete a combination of high-intensity running and low intensity running for 4-minute periods.

Agility quick steps

This helps to improve an individual's acceleration and speed. An Agility Ladder is really useful for this as it provides markers for either high-knees or lateral sprints.

Changing Direction

This ability is vital during a match, particularly when trying to lose your opponent. Agility Poles are really good for being able to dodge and weave and an effective drill includes spring to the pole, rolling round it to change direction and then sprinting back.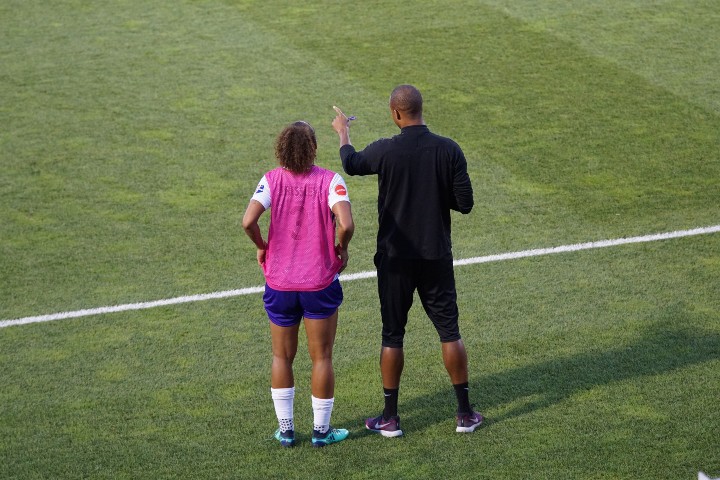 Coaches should also be monitoring the performances of their players to determine their next steps. They should be looking out for the strengths and weaknesses of each player and how they can work together to build the strongest squad.


Coaching qualifications
Football coaching is very diverse depending on what you hope to achieve with it. To get into football coaching you need to gain recognised coaching qualifications from the FA. There are 5 levels to becoming a football coach;
FA Level 1 in Coaching Football
The FA Level 2 in Coaching Football
FA Level 3 (UEFA B) in Coaching Football
The FA Level 4 (UEFA A) in Coaching Football
FA Level 5 (UEFA Pro) in Coaching Football
Once you have completed the badges at a certain level, you can then move onto the next one, but each one requires payment. It is important to note that once you've passed Level 2, you are then required to work or volunteer for a club to gain experience which will enable you to progress up the coaching ladder.
The cost of courses can vary depending on the on the County FA you decide to take the course with. An approximate average cost is as follows:
Introduction to Coaching Football (What was Level 1) – £160
Level 2 – £320
UEFA B – £720
UEFA A – £3000
Many coaches seek financial support from their clubs to subsidise costs and can often receive sponsorship to progress with their coaching badges. It is also worth spending some time comparing prices as counties will often discount prices to make it more affordable and accessible.

Coaching pathway
The coaching pathway is simply a level-based progression where an individual learns the ins and outs of football coaching. The courses cover the different ways players learn and develop as well as the main aspects of coaching at different levels
The emphasis on the badges is a result of the FA wanting to ensure a continuous culture within football coaching. The FA suggest that coaches should understand how they should be addressing the 'four corners' of a players development; technical, physical, social and psychological.
The amount of time it takes to become a qualified football coach varies depending on how many levels you want to achieve and the time you take to do them. As a rough approximation of how long each level can take:

Introduction to Coaching Football
This is replacing what was 'Level 1' and is renowned for being the UK's most popular coaching course. It is a 4-week online course and it blends live weekly webinars, e-learning, community support and a range of other resources.

FA Level 2
This course is for more experienced coaches and is more demanding than the previous level. It takes 145 hours to complete and covers key issues you might come up against in coaching. Successful participants achieve the Level 2 Certificate in Coaching Football qualification.
Those signing up must be aged 16 or over and must hold a current FA Emergency Aid Certificate. You must have also completed the FA Level 1 in Coaching Football course.
FA Level 3 (UEFA B)
This level is key as it is designed to be the bridge between the grassroots game and the professional game. It takes eight days to complete and is made-up of 3 in-situ visits.

To be able to be involved you must be:
at least 18
hold the FA Level 2 in Coaching Football qualification
be able to provide evidence that you work at a club/ organisation as a paid member of staff or volunteer with access to appropriate players
Level 4 (UEFA A)
For those wishing to work as a manager or coach in the professional game, or as a youth academy manager, you will need this Level 4 (UEFA A) qualification.
Taking place over 18 days, the course is divided into six residential blocks held at the FA's national football centre. Each block will last three days with learners receiving in-situ between the blocks.
To be applicable, you must have:
Completed the FA Level 3 (UEFA B)
Be a senior professional with at least five years' experience
Have your applications vetted and approved by the course director prior to enrolling
Have access to sufficient players to practice 11v11 sessions throughout the course.
FA Level 5 (UEFA Pro)
The FA Level 5 (UEFA Pro) is the mandatory qualification for all first team managers who want to work in the Premier League. The course is delivered in several modules over an 18-month period.
Course application pre-requisites include:
Hold a current FA Level 4 (UEFA A) in Coaching Football, with priority given to applicants holding the English FA Award
Having experience in the professional game as a player, player coach, coach, assistant manager, manager, academy manager or technical director
Holding a valid FA Advanced Youth Award (desirable)
Other qualifications
As well as the qualifications required to become a football coach, there are also some other areas which need to be fulfilled. When working with children, you will be required to have a DBS check as well as completing The FA Safeguarding Children Workshop. This is to ensure all coaches who work with children are able to report concerns quickly and effectively, as well ensuring football is fun, enjoyable and safe.
It is also required that coaches are first-aid trained so all safety precautions are taken. A course which is accessible to all is provided by St. John's Ambulance, which covers a variety of topics and can be completed in 3 days. Equally, a more specific course is the Introduction to First Aid in Football which is provided by the FA.
It is also suggested that a degree in Sports Science could be useful, although not necessary. The array of skills you pick up from being involved in sport is incredibly useful, as are communication skills when talking to athletes.

How to get experience as a coach
A key element to beginning a career in coaching is to build experience. A common method is through an apprenticeship, which allows for learning whilst in the job, as well as earn a wage whilst you become trained. These are open to people over the age of 16, with a focus on improving skills. Examples include a sport community activator coach intermediate apprenticeship, or a sports coach higher apprenticeship. You will usually need maths and English GCSEs, or equivalent, for an intermediate apprenticeship and for a higher or degree apprenticeship, you will need 4 or 5 GCSEs at Grade's 9 to 4 (A* to C) and A levels, or equivalent.
You can also volunteer with clubs or coaching organisations to build experience and understand the basics of coaching. A good place to start is at your local amateur football club as they often already have things in place so you can learn the ropes and take on some responsibility when you are ready. The FA have ways in which you can get into English Football through their 'Get Involved' campaign, which provides support for players, coaches, referees and more. You can also find clubs local to you through their Find Football search engine.