---
Relieving the financial pressures of Covid with funding from the Ron Harrod Foundation
Sponsoring young and aspiring athletes has always been a big part of our ethos at Harrod Sport, and we love to see how they flourish at what they do. After a long period of time away from sport, there is even more excitement around competing and sporting events. For so many of us, not having sport as part of our lives due to pandemic restrictions was a huge loss. Even more so for those who work in sport, or even teach it, like our Ron Harrod Foundation athlete, Fiona.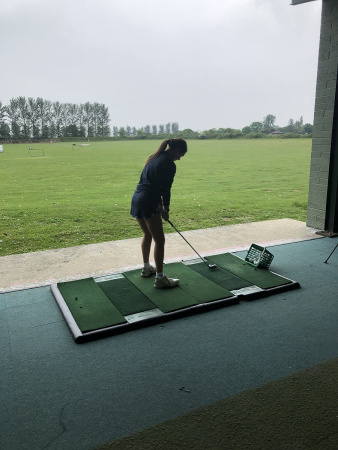 Fiona Stokes not only loves playing golf and competing in tournaments, but she also teaches at a golf club as her full-time job, so being unable to take part in regular golfing events provided difficult during the worst hit Covid months.
Fiona got into golf when she was 12 and describes her Grandad's excitement when she first picked up his golf clubs which were in the garage. He took her straight to the golf course to see how she did, and it just stuck! More so than she ever thought, as Fiona described how playing golf made her find teaching, which is what her passion is.
'I can see myself teaching golf forever. I'd like to keep growing my teaching and I have quite an interest in sports performance and sports science, so I'd like to try and take that a bit further as there aren't many people who will have that specialist knowledge.'
Having a professional golf degree alongside this is a key factor to Fiona's career as this allows her to be a PGA Professional, which adds another level to her coaching (as well as being ale to compete with PGA East). This is a salient factor as it allows Fiona to pursue her passion of teaching others about the sport she loves.
'My favourite thing about teaching is the variety of people I talk to and the different age and ability they all are. I teach from 3-year-olds to 86-year-olds and literally all ages in between – you learn how to teach better with every lesson as well.'
Fiona said finding out she was one of the athletes chosen for this year's Ron Harrod Foundation made a really big difference to her mindset, as she was no longer worrying about the financial side of the sport she loves. It is also special to know people believe in you and are committed to providing the support you need to help you to achieve. This funding is vital for Fiona to be able to compete with players at the level she's at, as it has allowed her to replace her clubs so she has the necessary equipment for competitions, as well as the ability to take part in competitions themselves.
Due to furlough, Fiona wasn't going to be able to afford to play the tournaments required of someone on a 'PGA Degree', which was quite a stressful time. When you're an assistant (as Fiona is), you have to play 7 rounds a year, which means costs can increase quite rapidly.
Fiona's describes how she had prepared herself to ask the PGA for cost exemptions and had even already drafted a letter to them, when she found out she had been selected as a Ron Harrod Foundation athlete.
'I sent a photo to my Nan just of me crying and said, 'forget what I said yesterday!'.
PLAYING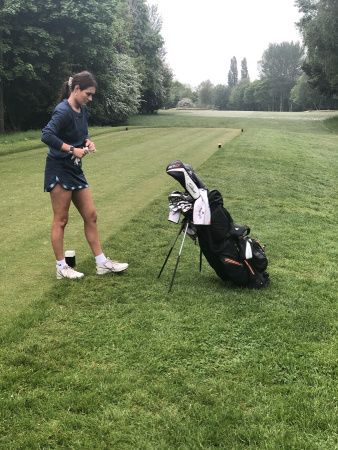 HOW DO YOU PREPARE FOR A TOURNAMENT?
Try and practice as much as possible
Make sure the clubs are clean and everything is stocked up on
Early night (and a good night's sleep)
WHAT DOES A NORMAL TOURNAMENT DAY LOOK LIKE?
Arrive at the course at 6:45am (to warm up and practice shots)
8am tee off (arriving 10 minutes before your tee time to avoid a penalty)
The timing for the rest of the tournament depends on how well you do on the first day, as the better you do the later you can start the next day
It also includes lots of snacks (namely flapjack and cereal bars – not very nutritious but lots of energy!)
GETTING INTO GOLF
Golf is an ever-growing sport, particularly in the UK, with a recent study from the 2020 Great Britain Golf Participation Report suggesting that the total adult golfers on a full-length course (9 or 18 hole) increased significantly by 2.1 million players to 5.2 million. This suggests the amount of people participating in golf has increased massively, with more people playing the sport than ever.
'For people who are looking at starting golf, there are lot's of 'Get into Golf' courses, like the sessions I'm doing this summer, which will give an overview of all parts of the game and the basics you need to know. Clubs will also have routes into memberships. Or you can just go to the driving range and give it a go!'.
Fiona Stokes Golf Tuition is offering Junior Academy Coaching throughout the summer holidays, Get Into Golf sessions and regular lessons throughout the year, all taking place at Rookery Park Golf Club.