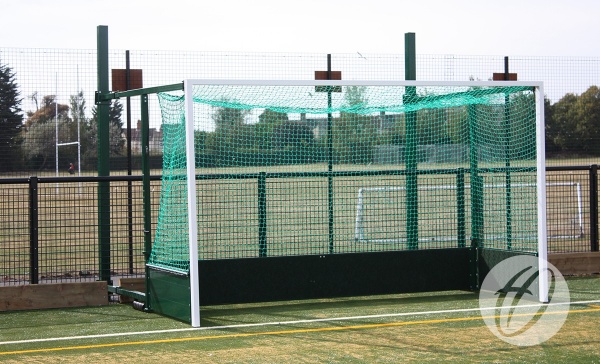 Fence Folding Hockey Goal - 2.1m to 2.5m Proj.
HOC-130
Harrod Sport Fence Folding Hockey is designed ideally suited for synthetic surfaces, for cross court play and small sided games. Not recommended for official matchplay. Unique pivot joints allow the goal to fold back safely and easily against surround fence without detaching the backboard.
Please Note: All recommended nets and extras must be purchased separately (unless stated as included with product) and can be found listed by clicking the View Set and Buy button. Please ensure that all boxes are ticked for the required product before proceeding to checkout.

Unit: Set
Weight: 586.00kg
Features:
Uprights and crossbars have a 7mm thick reinforced front wall to prevent hockey ball damage.
2.1m to 2.5m telescopic side supports allow for exact projection.
Goal locks in place when extended for play and when fully folded.
Fully welded corner joints provide superior strength and added safety.
Specification:
Uprights & Crossbars made from 75mm x 50mm reinforced aluminium.
Anchor posts made from 100mm x 100mm zinc plated steel.
Adjustable telescoping side bars and vertical support bar made from 60mm x 60mm zinc plated steel.
Back supports and top backbar manufactured from 32mm diameter aluminium.
460mm high reinforced aluminium backboard panels with green noise reducing carpet on all inside faces.
Polyester powder coated white, excluding backboards and support posts which are green.
Please note: sockets are not included, the support posts are complete with a welded plate.
What's Included
2 Crossbars
4 Uprights
4 Sideboard Assembly
2 Backboard Assembly
4 Top Supports (2 Left, 2 Right)
4 Support Bars
4 Through Fence Arms
4 Bottom Adjuster Bars
4 Rollers
All Bolts & Fixings
1 Set = 2 Goals (Nets sold separately)

FAQs
Q: How far from the fence does the goal project when folded?
A: The goal projects 194mm from the fence when folded.
We'd love to hear your feedback - please click here to leave a review.
---
Fence Folding Hockey Goal - 2.1m to 2.5m Proj. (Set)
The items below are required for a complete set.
Options, Extras & Spares
The items below are required for a complete set.
Related Products