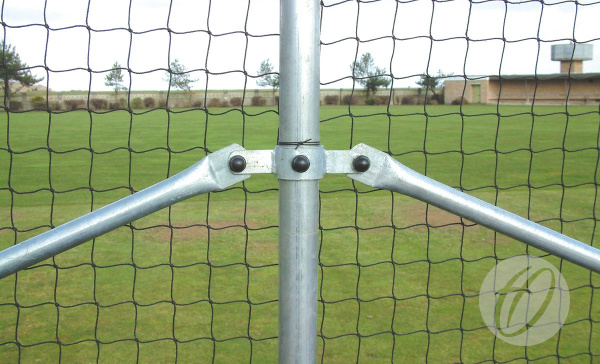 Premier Portable Cricket Cage
Premier Portable Cricket Cage, our original premier freestanding, galvanised steel or aluminium practice cricket cage. Sturdy construction with a fully fitted roof and surround net. Can be easily wheeled into position by 2 people by attaching the lifting bar. Perfect for clubs and schools. Available as galvanised steel or aluminium options.
Select option below.
Unit: Set
Weight: 199.00kg
Features:
Surround and roof netting joined for ease of installation and safety.
Detachable front lifting handle also prevents unauthorised play.

Specification:
Size 3.2m H x 3.6m W x 7.2m D.
50mm diameter uprights and toprods in steel.
Heavy duty 60mm steel fixing joints.
Diagonal steel supports for added stability.
Two cellular fixed rear wheels.
Supplied complete with 2mm thick black polypropylene netting Complete with 4 'U' Peg anchors.
What's Included
6 Uprights
3 Crossbars
4 Bottom sidebars
4 Top sidebars
1 Bottom backbar
4 Support Braces
1 Handle
2 Handle Brackets
2 Centre Brackets
2 Wheel brackets
2 Wheels
1 Net
All Bolts & Fixings
We'd love to hear your feedback - please click here to leave a review.
---