Shelters & Team Dugouts
A wide range of team shelters designed and manufactured in the UK, available in aluminium or fibreglass.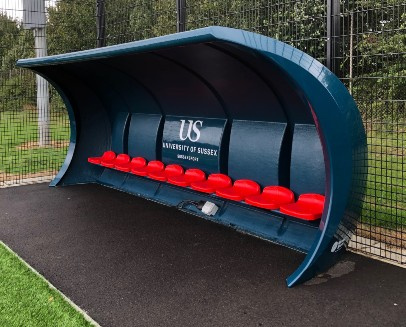 Price from
£5,262.00
Inc. VAT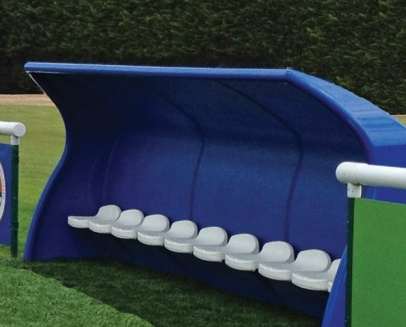 Price from
£3,856.00
Inc. VAT
Professional quality Team Shelters and Dugouts
Harrod team shelters are designed, developed and manufactured in Lowestoft, except from the Fibretech range, which is manufactured in France. Harrod products deliver the highest levels of quality and safety and all shelters are made in accordance with the latest safety standards.

---
"Harrod Team Shelters have been supplied to prestigious events, venues and clubs including Lee Valley Olympic Park, FIH Champions Trophy and Premier League football teams."

---
Shelter types
Harrod can supply shelters designed to house 3, 5, 7, 8, 10 ,12 or 15 people depending on the size of your team. With this level of variety, you will be able to select the ideal dugout bench for your sport. The option of bespoke colours and branding are a great way to display your school colours with pride.

Elite team shelter

These high-end, two-tiered aluminium football shelters are designed with professional clubs and elite venues in mind. This range has been used at the FA's St.George's Park facility.
Superior team shelter
2m high to allow standing access, Superior shelters feature an aluminium frame and injection moulded polypropylene superior bucket seats.
Panoramic team shelter
With curved side frames to offer better views, the spacious aluminium Panoramic team shelter offers bench seating and is a spacious and affordable football dugout option for clubs and schools.
Fibretech team shelter
Created from strong fibreglass and designed for durability, the eye catching Fibretech shelter is manufactured in a single piece, giving it a sleek, modern style. 'Pro' versions offer a more contemporary design with a larger canopy. This range also offers outstanding branding options including your choice of the full range of RAL bodywork colours and the option for bespoke club, school or team logos.
Officials shelter
As well as team shelters for players, smaller 2 person aluminium shelters are available for officials. Harrod also provide a technical dugout bench for hockey. These are designed to the highest standards for Olympic and FIH competition use.
Installation
We provide installation of the shelter only, but no groundworks (concrete pads). A contractor would have to install the necessary concrete pads and anchors if they are not already in place.


The lead time for different models can vary:


Standard shelters: 2-3 weeks
Fibretech team shelters: 6 weeks
Bespoke shelters: 4-6 weeks


Shelters always need to be anchored. This can be done by installing the correct anchor arms for your model. Harrod stock the arms, which are supplied with sockets, bolts and fixings.

Maintenance

If maintained correctly, team shelters should last for a minimum of 5 years.


To ensure the longevity and safety of your shelter, make sure any broken perspex is replaced, regularly tighten all bolts and fixings and use maintenance paint or spray to repair any chips that appear in the paintwork.


Harrod Sport manufacture a wide variety of aluminium or fibreglass team shelters which are designed for all levels of sport, from clubs and schools to professional football teams. Take a look at our range to find the right type for you.