---
Harrod continue to support women's football in Norfolk with The Harrod Sport Women's Cup
Our relationship with Norfolk Football has expanded to see Norfolk County Football Association's sole female County Cup Competition become known as The Harrod Sport Women's Cup, an affiliation which means a great deal to the business.
Harrod Sport have always looked to support local clubs wherever possible, something which can be seen through continued sponsorship of local athletes through the Ron Harrod Foundation. Supporting local athletes within the community is a prominent ideology for Harrod Sport, a legacy left by the company's founder, Ron Harrod.
Alongside our partnership with Norfolk FA, Harrod Sport offer Norfolk Clubs new equipment at discounted prices, offering additional support to help them access the top-of-the-range equipment they need and deserve.
Norfolk FA Marketing & Communications Manager, Rebecca Burton added: "We can't thank everyone at Harrod Sport enough for not only the support they've offered us, and Norfolk Football to date, but the additional levels of generosity they continue to show to our local game. "
Norfolk County FA said as part of their most recent manifesto that they aimed to inspire a lifelong journey in football for all, as well increasing football participation in Norfolk by 25%. With a new three-year strategy being launched in July, they aspire to improve on this work further, with female football being a prominent feature within their targets. Harrod Sport are inspired by this, and have always reflected on what we can do to assist the progression of sport in Norfolk generally, as well as supporting women in sport.
The Harrod Sport Women's Cup final 2021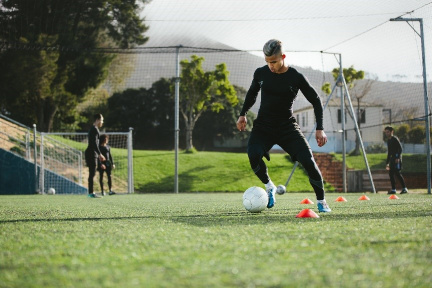 The Harrod Sport Women's Cup final 2021 is due to take place on Wednesday 19th of May between Norwich City Women FC and Mulbarton Wanderers FC. As a result of our growing partnership, both teams will be gifted a selection of equipment from Harrod Sport's Finesse Training range, the perfect way to enhance individual and team training and set both teams up for their pre-season in the summer months.
First starting in the 2010-11 season, this competition is something which is a huge part of women's football in Norfolk, always providing a really competitive set of games between local women's teams.
In 2019, Harrod Sport signed a three-year agreement with Norfolk FA to support Norfolk Football and to help make positive changes across the county. Part of Norfolk FA's #NorfolkFootballForAll strategy to increase football participation and inspire more people to play includes; embracing all formats of football (such as Walking Football) and delivering £5m of facility projects. We recently extended our backing of Norfolk Football through the company's new 'Finesse Training Range', becoming an official supporter of the Norfolk FA Coaches Club.
The final is due to be held at the FDC, Norwich (Norfolk FA's first and biggest Football Development Centre) on the Field of Dreams, a top-quality facility renowned across the County for holding key football events. Kick-off is 7.45pm and we look forward to showing our support – good luck to both teams!
Getting involved in women's football
Harrod Sport's two-year sponsorship of Senior Women's football team Wroxham Women ties in perfectly with their campaign to promote local football in Norfolk. The sponsorship began back in 2019 when Wroxham Women were newly formed, meaning we have been supporting them from the start. It is really exciting for Harrod Sport to be part of the club's progression and support them as they evolve as a club and as individuals.
Supporting women's football at every level
Harrod Sport are also involved with women's football at elite level, supplying goalposts to all of the Women's FA Cup fixtures held at Wembley. Whilst this year's final is still a little way off (due to be played 5th December 2021), this date is of great significance. 100 years ago on this same date, the FA made the decision to ban women's football - an incredibly low moment for the game, but can also be used as a benchmark to show how far women's football has come to gain the recognition and appreciation it has today.
Kelly Simmons, FA director of women's professional game, said, 'We want to use the Cup Final day, always one of the most special in the calendar, as a platform to celebrate the game's historic trailblazers who we remain forever indebted to, while also acknowledging the growth and development in the modern era'.
More information on Harrod Sport and their support of women's sport can be found on their blog. There is also a 35% discount on our site to all Norfolk FA affiliated clubs, using code NORFOLKFAJ20.