---
The top moments of EURO 2020 involving our goals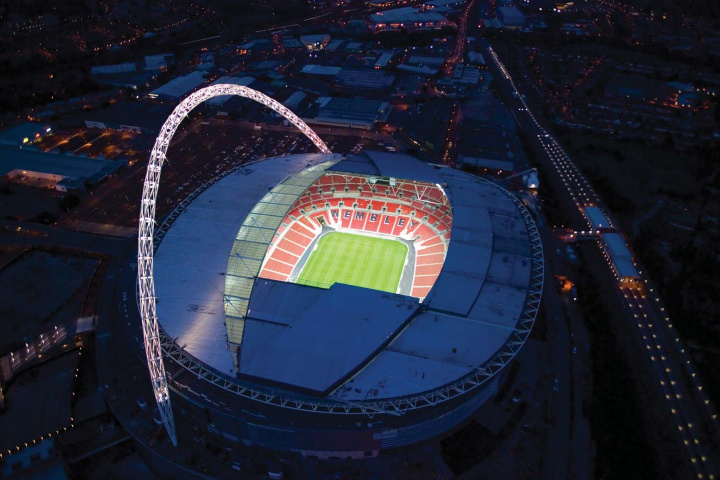 While Euro 2020 was delayed for a year, it has certainly been worth the wait. Great goals, incredible comebacks and drama at every turn have made this one of the most exciting and memorable European Championships for decades.
For English fans, six of their matches at Wembley has made it feel like a home tournament, with performances far exceeding expectations.
Harrod Sport has been delighted to supply goalposts for six of the 11 venues, including the Stadio Olympico, Rome, Hampden Park, Glasgow, and Wembley Stadium, London.
Having been involved in 31 matches – including both semi-finals and the final – we've picked out some of our favourite moments of the tournament that took place in Harrod's goals.

Forsberg starts fast
Match: Poland vs Sweden
Date: 23 June 2021
Venue: Saint Petersburg Stadium
Final score: 2-3
Highlight: fastest goal
Only a win would do for Poland on the final matchday in Group E, but within seconds of their game against Sweden, the task became much tougher. Emil Forsberg's opening goal in Saint Petersburg came just 1 minute and 22 seconds after kick-off, making it the fastest goal of Euro 2020 and the second-fastest in European Championship history behind Russia's Kirichenko, who scored after 67 seconds in a 2004 Group match.
The game was also notable for the performance of Robert Lewandowski, who hit the crossbar twice and scored two goals as he dragged Poland level. It wasn't enough though, as a stoppage-time winner for Sweden put Poland out – possible making this Lewandowski's final European Championship appearance.

Schick's Hampden wondergoal
Match: Scotland vs Czech Republic
Date: 24 June 2021
Venue: Hampden Park
Final score: 0-2
Highlight: goal of the tournament contender
Despite the excitement after a 23-year wait to qualify, Scotland's tournament never really got started and it was the opposition who made headlines in the first match at Hampden Park.
After giving the Czech Republic the lead in the first half, Patrik Schick scored one of the best goals in the history of the Euros, catching Scottish goalkeeper David Marshall off his line and scoring from almost halfway.

Record-breaking Ronaldo
Match: Hungary vs Portugal
Date: 15 June 2021
Venue: Puskas Arena
Final score: 2-2
Highlight: Ronaldo becomes all-time top scorer
Having almost singlehandedly won Euro 2016 for Portugal, Cristiano Ronaldo began his tournament in record-breaking form. Simply appearing in Portugal's opening match made him the first player to compete in five different European Championships. But he wasn't finished there...
A brace in the match took him to 11 goals, overtaking Michel Platini to become the highest scorer in European Championship history.

Spain and Croatia can't stop scoring
Match: Croatia vs Spain
Date: 28 June 2021
Venue: Parken Stadium
Final score: 3-5
Highlight: highest scoring Euros match since 1960
Most people expected a competitive game when Spain and Croatia met in the Round of 16, but who could have anticipated an eight-goal thriller - the most in a European Championship match since the first-ever tournament in 1960 - with eight different goalscorers?
A full-time score of 3-3 meant extra time, but two goals in quick succession were enough to secure Spain a spot in the next round against Switzerland.
From Pedri's own goal to Croatia's late comeback from 3-1 down and then extra time with Morata's stunning volley, the fans in Parken Stadium, Copenhagen were treated to a game that had it all.

England finally defeat Germany
Match: England vs Germany
Date: 29 June 2021
Venue: Wembley Stadium
Final score: 2-0
Highlight: England win after 55-year wait
When the dust settled on a dramatic final round of games in Group F – dubbed the 'group of death' due to it comprising World Cup holders France, Euro 2016 winners Portugal and three-time winners Germany – Die Mannschaft made it through to the Round of 16 to renew an old rivalry.
Since their 1966 World Cup final win at Wembley, England had failed to defeat Germany in a major tournament. They had also never won a European Championship knockout tie in normal time.
After a cautious first half, Raheem Sterling stepped up to raise the roof at Wembley. The fans held their breath as Thomas Müller missed a golden opportunity to equalise by mere inches, but Harry Kane's 86th-minute goal ended England's 55-year drought and brought Joachim Löw's 15-year spell as Germany head coach to an abrupt close.

Shaw makes a nation believe
Match: Italy vs England
Date: July 2021
Venue: Wembley Stadium
Final score: 1-1 (pens 3-2)
Highlight: Luke Shaw's early goal
It's the dream of every player and fan to walk out onto the turf at Wembley Stadium for a cup final. It evokes memories of all-time great moments from the FA Cup and Champions League to the 1966 World Cup. On July 11th, optimism and excitement filled Wembley before kick-off as England made that walk for their first-ever European Championship final.
After just one minute and 57 seconds, Luke Shaw scored the fastest goal ever in a European Championship final - and the nation believed that their 55-year wait for a major trophy was finally coming to an end.
But Italy, who were unbeaten in 33 matches over three years, showed their strength in the second half to draw level. Ultimately, the all-too-familiar pain of penalty shootout defeat struck again with England losing their fourth consecutive European Championship shootout.
While the defeat was painful, England broke new ground in what was their best-ever European Championships performance. With such a young and talented squad, there is nothing but excitement for what this team can achieve in the future – starting with the 2022 World Cup in Qatar.

The statistics behind the event
Here are the key statistics from every match starring Harrod Sport's goals during the tournament:

Wembley Fixtures
14 goals in 8 games
1.75 goals per game
13th June: England vs Croatia (Group D) 1-0
18th June: England vs Scotland (Group D) 0-0
22nd June: Czech Republic vs England (Group D) 0-1
26th June: Italy vs Austria (Round of 16) 2-1
29th June: England vs Germany (Round of 16) 2-0
6th July: Italy vs Spain (Semi-final) 1-1
7th July: England vs Denmark (Semi-final) 2-1
11th July: Italy vs England (Final) 1-1

Hampden Park Fixtures
11 goals in 4 games
2.75 goals per game
14th June: Scotland vs Czech Republic (Group D) 0-2
18th June: Croatia vs Czech Republic (Group D) 1-1
22nd June: Croatia vs Scotland (Group D) 3-1
29th June: Sweden vs Ukraine (Round of 16) 1-2

Parken Stadium Fixtures
17 goals in 4 games
4.25 goals per game
12th June: Denmark vs Finland (Group B) 0-1
17th June: Denmark vs Belgium (Group B) 1-2
21st June: Russia vs Denmark (Group B) 1-4
28th June: Croatia vs Spain (Round of 16) 3-5

Stadio Olympico Fixtures
11 goals in 4 games
2.75 goals per game
11th June: Turkey vs Italy (Group A) 0-3
16th June: Italy vs Switzerland (Group A) 3-0
20th June: Italy vs Wales (Group A) 1-0
3rd July: Ukraine vs England (Quarter-final) 0-4

Saint Petersburg Stadium Fixtures
17 goals in 7 games
2.42 goals per game
12th June: Belgium vs Russia (Group B) 3-0
14th June: Poland vs Slovakia (Group E) 1-2
16h June: Finland vs Russia (Group B) 0-1
18th June: Sweden vs Slovakia (Group E) 1-0
21st June: Finland vs Belgium (Group B) 0-2
23rd June: Sweden vs Poland (Group E) 3-2
2nd July: Switzerland vs Spain (Quarter-final) 1-1

Puskas Arena Fixtures
11 goals in 4 games
2.75 goals per game
15th June: Hungary vs Portugal (Group F) 0-3
19th June: Hungary vs France (Group F) 1-1
23rd June: Portugal vs France (Group F) 2-2
27th June: Netherlands vs Czech Republic (Round of 16) 0-2

Find out more about the Harrod Sport goals used at EURO 2020:
3G Foldaway Euro Portagoal (Budapest)
To relive the best moments of Euro 2020, and the magic moments created with Harrod Sport goals, check out our infographic: